Juliet & Romeo
Ben Duke
Lost Dog
Wilton's Music Hall
–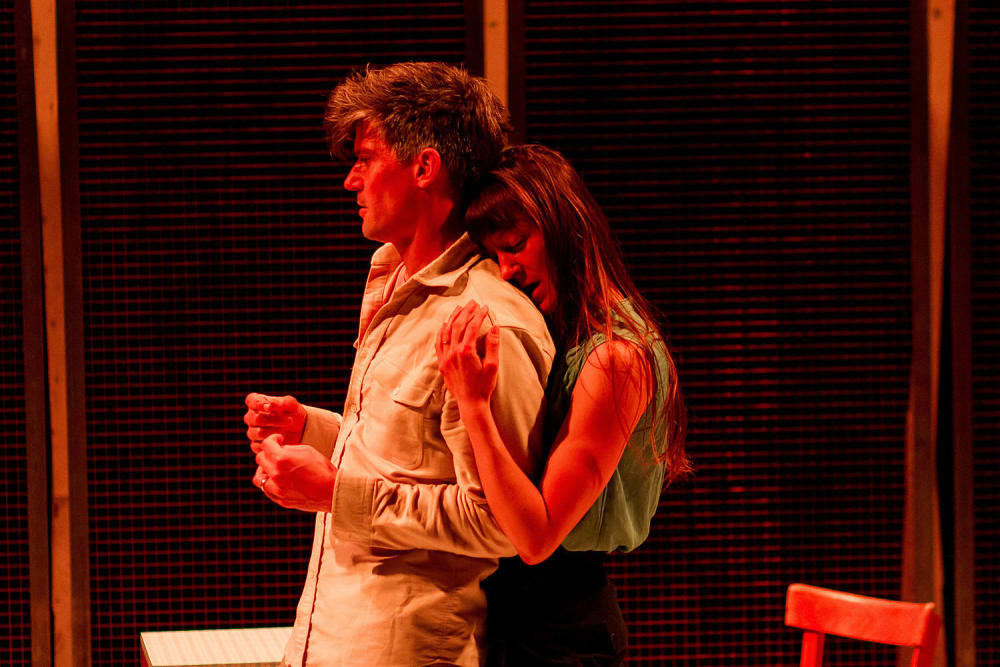 In Lost Dog's dance duet, Romeo and Juliet are desperate to recapture romantic love. It's a potent mix of speech, dance and comedy, as Ben Duke and Solène Weinachter hang out their dirty washing by exposing their conflicting ideas of what a relationship is meant to be, alongside memories that don't match for this messy, unweildy dance piece that proves long term relationships are hard to hold onto, despite the promise of eternal love.
The show opens onto a couple sitting on a stylish pink couch, next to potted plant. The couple are Juliet and Romeo knee deep into mid-life marital crisis. Now in their 40' some 20 years on from the heart-stopping poetry spouting love of youth, this couple are desperate to re-ignite the spark.
They've tried everything from couples' massage and counselling to sweat lodges and non-violent communication. Their latest attempt is to engage us, the audience to help them by watching their story. The question is asked directly. Can we help them? Are we the last resort? We, the audience reply "yes" like an obedient herd. House lights are up full glare, and it appears that by watching the couple re-enact scenes from their past, both in a modern setting and peppered with lines from Shakespeare's Romeo and Juliet, backed by aptly selected pop songs to raise the emotional stakes, the ultimate therapy will come into play.
In true Woody Allen fashion, a bit like Annie Hall for the noughties, they remember each and every scene predictably, totally differently. Duke's buffoon like, teenaged Romeo is the relaxed, less controlling counterpart to Weinachter's terrifyingly controlling Juliet. While it starts light of touch with details about how they met, the story soon develops into bleaker terrain as Juliet reveals exhaustion from tried and failed pregnancies, motherhood and the temptations of an extra-marital affair.
Juliet is driving the re-enactments as she is desperate to be the Juliet from the original Shakespeare version. Romeo, it appears, never really embraced the dream of romantic love in the first place. We discover he was never going to take the poison in the crypt. As Juliet awoke, he was screwing closed the bottle of poison, not opening it. Ironically, he quips. He would have survived no problem without his lover if she had died. He would've happily asked out the lady in the chemist who sold him the botte of poison.
The piece's real strength is the emotional tenderness alongside the slapstick, often verging on clowning moments. When "Ain't No Mountain High Enough" is played, the couple perform a duet in which they comfort each other at a bleak time. Standing close, they go through a range of small, seductive movements, like birds in a mating call that then blossom into a collaborative dance. This is a beautiful, fleeting moment of passion to watch.
Choreography is powerful and the very backbone of the piece, transposing meaning through movement by responding so acutely to dialogue, both Shakespeare's sonnets and contemporary text. There's an especially memorable sequence when they arrive in their Paris apartment. There, the tempo sets the emotional confusion between the two by moving swiftly between excited arrivals, silent recognition, then finally a desperate, meshing of legs and arms where at one point Juliet is literally dragging Romeo around the floor like a dog including biting his foot. She's a scary, unfulfilled lady who has clearly been let down by the empty dream of eternal love.
Ultimately though, it's Romeo's light-hearted approach to their relationship that shatters the dream and Shakespeare's much loved original version, a flippant denouncement that life and love affairs are random and art is full of imaginary fabrication, not based on the truth. Powerful stuff that digs surprisingly deep after the initials laughs die away to leave a relationship exposed, vulnerable and in tatters.
Reviewer: Rachel Nouchi