Juliet and Her Romeo
Adapted by Tom Morris and Sean O'Connor from Shakespeare
Bristol Old Vic
(2010)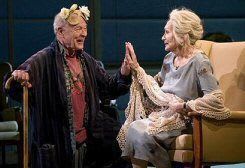 When one finds oneself at odds with everyone, it seems, as to the merits or otherwise of a production doubt inevitably creeps in. Is it just me?
Juliet and her Romeo, a re-working of Romeo and Juliet, by the new director of BOV, Tom Morris, brother of maverick comic genius Chris, was a bold statement of intent for the re-launched venue which, until recently, was shut.
The troubles of the theatre prior to the departure of the artistic director Simon Reade are well known. Financial problems aside, this was a theatre with no idea of who it was trying to attract and no sense of coherent artistic vision.
Romeo and Juliet has, as the programme notes, induced exasperation down the years and inspired adaptations and re-workings galore, most famously in West Side Story. There's plenty of previous then, and the only surprise with regards to this version is its re-location to a present day old people's home.
Morris and co-adaptor Sean O'Connor apparently first came up with the idea "some years ago" and have laboured on it on and off ever since. Their version uses Shakespeare's text, with some omissions and re-assigning of speeches.
It purports to be an examination of love among older people, the subject of which, we're told, is brushed under the carpet.
They scored a sizeable coup in securing the services of Sian Phillips, as Juliet, best-known perhaps for her role as Lavinia in the BBC series I Claudius. But they also managed to attract such other veteran actors as Michael Byrne, Tim Barlow, Dudley Sutton, Michael Medwin and Terry Taplin.
The trouble is that it rapidly becomes clear that it just doesn't work and the wonder, as Dr Johnson remarked, is not whether it is well done or not, but the sheer fact of it being done at all. It seems to be one of those ideas which can arise in the course of an evening down the pub which seem inspired at the time but which, with a clear head and in the cold light of day, invite dismissal.
That Morris and O'Connor persisted for years with their idea in the face of the insuperable obstacles which all too soon become apparent is astonishing.
The setting of the action contains two wings in Tom Pye's minimalist set. The Montague one contains those who have been forced to hand over all their savings in order to buy a place on a communal ward, whereas the Capulets use their greater wealth to purchase private care and a room of their own.
Juliet's re-marriage is prompted by her daughter's desire to find someone able to support her mother so that she can pass on the financial burden to another.
There are moments when the staging throws up undreamt of comedy. As when Romeo explains to Juliet how he scaled the wall to reach her. Or, shortly after, when Juliet calls him back only to admit she has forgotten why.
But these are isolated felicities in an evening which grows increasingly ridiculous and provokes mounting exasperation at the sheer daftness.
The ball is a piece of grotesquery. One of the interlopers from the Montagues sports a shopping bag over his head as a disguise, while a record player blares out Old MacDonald had a Farm. And why, for goodness sake, would the doctor (Pal Aron) threaten execution after a mild kerfuffle breaks out?
Sian Phillips speaks beautifully but is a beacon of light in this respect. Dudley Sutton as Mercutio murders the 'Queen Mab' speech, robbing it of wit and any energy whatsoever in a somnambulistic drone that seems to last for eternity.
I could go on but it seems more charitable to 'hold my peace'. One to file alongside Peter O'Toole's Macbeth, and Goold's recent wretched King Lear.
The only way is up.
Reviewer: Pete Wood