Julietta
Bohuslav Martinu
ENO
London Coliseum
–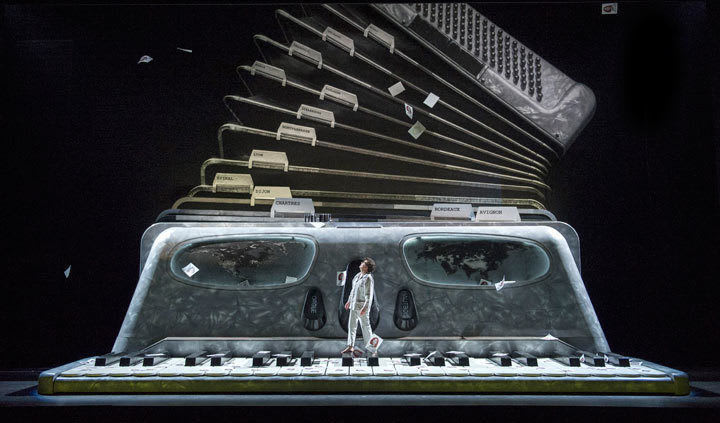 The novelty of instruments onstage certainly hasn't worn off as the audience is met with a near forty-foot high accordion. It only gets better as the accordion was even concertinaing with the appropriate interludes, forcing the singers to squish up into the wings.
This inspired staging by Richard Jones centres around this comical instrument, which alternates angles onstage with each act. It is the only set, but Antony McDonald's (designer) gigantuan contraption creates an adventure playground for the cast to work upon, running up and down the keys, and disappearing through the concertina folds.
Julietta is a rare treat for a UK audience, the work only first performed in England in 1978, nearly forty years after its première. Based on Georges Nouveux's play, Juliette ou La clé, it's a surrealist inspired world which Martinu portrays through perpetual tension, avoiding any harmonic climax within the haunting, string-based sound world. Edward Gardner conducts this constantly shifting score and beautifully pulls out the longing melodies amidst comic titbits.
Michel Lepic (Peter Hoare) stumbles across a town in which all of the inhabitants suffer from amnesia. The residents latch onto any memories given and twist them to be their own, yet forget again the events in an instant. Michel remembers the town from three years previously when he chanced upon the beautiful Julietta singing from her window, and he desperately wishes to find her. Finally they meet in the woods, and in this twisted dream world Julietta believes they have been together for years. As Michel tries to reinforce his reality onto Julietta's fantasies they quarrel until he shoots at her. Michel now enters crisis of confidence about his reality, desperately hoping she Is still alive, and ends up in limbo pursuing Julietta into the land of dreams.
Although at times Martinu's prolonged string passages grow frustrating, and the melodramatic nature of the whole work provides little tunefulness, the singers vocally cannot be faulted. Lead tenor Peter Hoare, who has a relentless task onstage and whose stamina is astounding, carries the whole work. The wonderful comic trio of Michel lookalikes (Emilie Renard, Clare Presland, Samantha Price) are vocally and choreographically tight, and their female timbres make a nice change from the male dominated cast. All of the performers play out their extreme characteristics wonderfully, none more so than Susan Bickley as the crazed Fortune Teller.
The surrealist nature of Julietta is heightened by the combined elements of Jones's staging. The Michel lookalikes transform into crocodiles, grand pianos float past in the woods, and people disappear through an accordion button door into the world of dreams.
Martinu is not a firm favourite for everyone, and his ever-shifting musical ideas to match Michel's delusional world could be considered hard work. However, the music so beautifully accentuates Neveux's crazy land in which the characters live, that it is hard to find these aspects tiresome. Coupled with a superbly imagined collaboration between designer McDonald and director Jones, this bizarre story certainly finds itself well deserving of ENO's stage .
Reviewer: Louise Lewis