Julius Caesar
George Frederic Handel
ENO
London Coliseum
–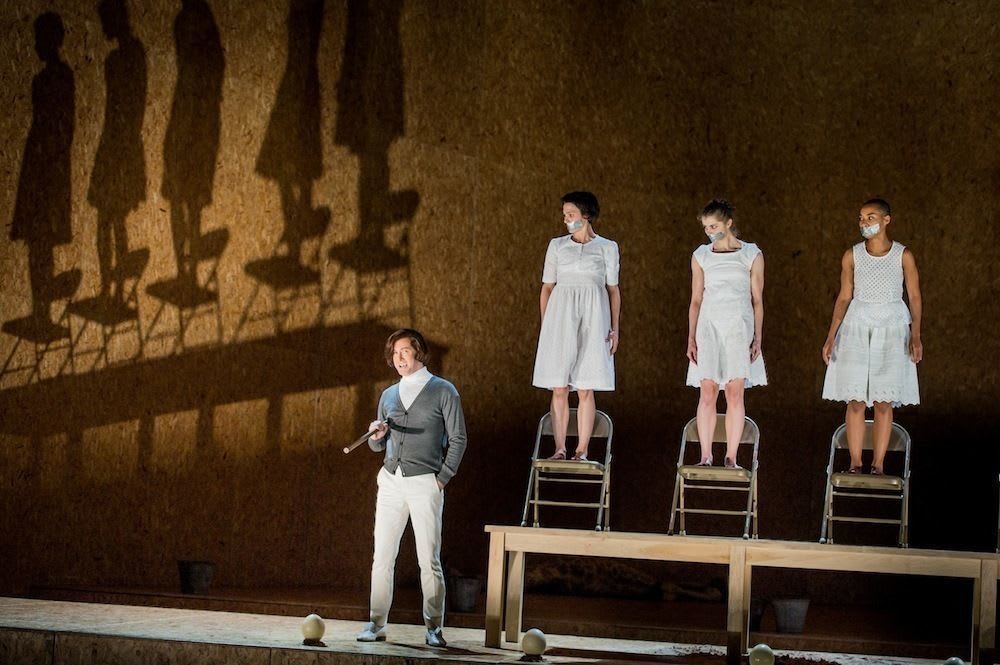 Everyone knows an actor must rehearse with their props. Can you imagine the cast's expressions faced with life-sized, slain giraffes to grope and crocs to caress?
Set designer Andrew Lieberman keeps the stage a bare, chipboard cavern with a central pit from which the cast arises and descends. Primarily costumed in radiant white, throughout the show Doey Luthi (costumes) accessorises with a monochrome palette. The stage space is abstract but the clothing, alongside the animals, suggests safari plains.
The real visual spectacle comes in the form of Fabulous Beast Dance Theatre, a team of ten dancers—that and the gigantic zoo-fare. Director-choreographer Michael Keegan-Dolan and his company have collaborated with ENO before with their Olivier Award-nominated production of The Rite of Spring.
The stage space is abstract but the clothing, alongside the animals, suggests safari plains. Caesar (Lawrence Zazzo), crocodile cowboy-boot clad, is a fun-loving, trigger-happy but benevolent victor granting peace to Pompey and Egypt. Immediately his (and everyone else's) wrath is triggered when conquered Pompey's head is delivered in a plastic bag from cruel Ptolemy. The three hours that follow deal with everyone wishing revenge on Ptolemy, mixed with a little romance following Caesar clapping eyes on Cleopatra.
Throughout Julius Caesar, Keegan-Dolan manages to keep a tongue-in-cheek playfulness interspersed with the more serious drama. Cleopatra seduces with her beautiful singing in a disco, Caeser sneaks to Cleopatra with only boxers and balloons and giraffe tongues become threatening phallic torments.
Christian Curnyn (conductor) has cut as few arias as possible, instead removing recit to reduce Julius Caesar by about an hour. But as Handel's longest opera, running time still remains 3 hours 45. The many arias per character provides plenty of opportunity to display this largely stellar cast's vocal prowess.
Sesto (Daniela Mack) unusually keeps four4 out of five arias, allowing the audience to really see her emotional journey. Even more unusually, Mack plays Pompey's daughter rather than son. Mack brilliantly reconciles Sesto's feminine nerves with a modern women's courage and resolve to follow father's footsteps. The only oddity is that this interpretation means mother Cornelia willingly pushes her daughter into death, which, even viewed as a present day audience, seems a stretch.
The dancers accompany the whole show; Keegan-Dolan's choreography uses a lot of repeated sinewy phrases which appear mantra-like. This is particularly successful when enhancing a character's emotional state, whilst allowing the singer the luxury of not having to contort themselves. Keegan-Dolan achieves this much more in the second and third acts, the accompanying movement in act one at times feeling gimmicky rather than intrinsic to the action.
Occasionally, brilliant song and dance do combine, and highlights include dancers slowly flocking around Sesto as she sings of her impending attack on Ptolemy. The increasing forces appearing to mirror her growing resolve and energise the arias.
A tender picture of Cleopatra lamenting, slowly cocooned by the wings of vulture-clad dancers, will forever recur in my memory. These rare moments of stillness contrast beautifully with the otherwise constant kinetic energy.
Cleopatra (Anna Christy) is frustratingly inconsistent. Initially wonderfully coquettish and demanding, Christy sparkles onstage. Yet act two falls flat with pitching a repeated problem and appearing disengaged, but then a surprise ending to 'flow my tears' as Christy sings with heartbreaking tenderness. Her return in act three continues to build on the brilliance of act two, fabulous coloratura and no qualms with tuning. When Christy is on form, she's something special but the challenge seems sustaining this brilliance for three hours.
The performance prize for true scumbag must be awarded to Andrew Craig Brown (Achilles) who never disappoints in his brutish, pervertedly slimy menace. Counter-tenors Lawrence Zazzo and Tim Mead steal the show, both vocally impeccable. Zazzo's coloratura sparks, and his emotional range is always engaging. In act two, Mead starts to reach a crueler, Willy Wonka style smiling madness, Machiavellian in his flicking moods. It's a shame he doesn't push this further in act three; despite taunting Cleopatra with a wonderful array of cruelties from suffocation to smothering in sand there is a missing element of his enjoyment in the tortures.
This all-new Julius Caesar is crammed with imagery and ideas, which certainly require plenty of mulling over for interpretation. The blank canvas approach to design ensures that there is space for the cast to play, without distracting from the beauty of Handel's music. Much seems deliberately vague, inviting the audience to really engage and question, yet Keegan-Dolan's humour ensures this doesn't feel like a chore.
The many puzzles, inventive imagery and devilishly gross tricks will have any audience members reliving this Julius Caesar for weeks.
Reviewer: Louise Lewis