Julius Caesar
William Shakespeare
Royal Shakespeare Company
Royal Shakespeare Theatre, Stratford-upon-Avon
–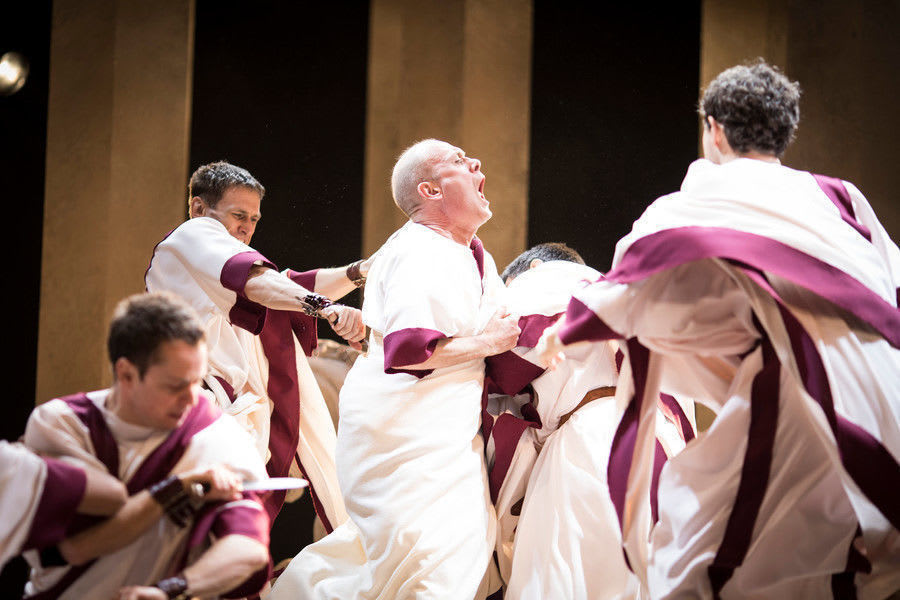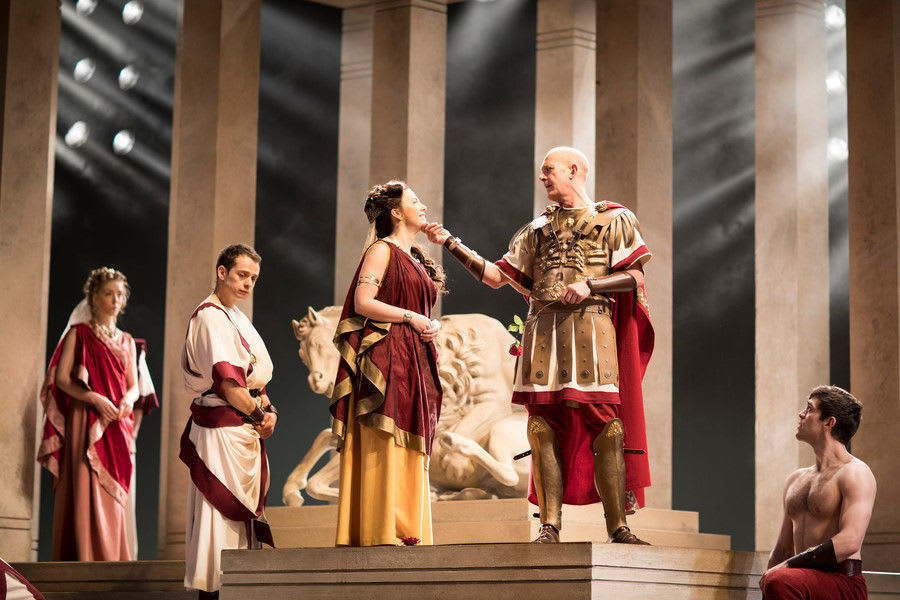 Hail Caesar! The triumphant first part of the RSC's 2017 Roman season exploring the nature of power hints at more glories to come as the company goes on to tackle Antony and Cleopatra, Titus Andronicus and Coriolanus before the autumn campaigns are done.
There is never an inappropriate time to stage these compelling dramas, nor to consider the relationship of demagoguery and the people that is the special concern in Julius Caesar.
But without denying their relevance, there let any passing associations rest. All four plays are traditionally designed by Robert Innes Hopkins and with its togas, broadswords and helmets this opener could hardly seem more faithful to Ancient Rome if Virgil himself had written to the costume department.
The set is the context; the content is four excellent performances by the principals, led until the Ides of March—aka the interval—by the towering figure of Andrew Woodall as Caesar.
Tower he does, even if the impression is party a reflection of the light upon his cropped dome, but more from the effect of a great, growly voice of self-glorification and vanity easily aroused to anger.
"He thinks too much. Such men are dangerous," he says of Cassius. The words come spitting out, calumny mixed with contempt.
Martin Hutson's Cassius does indeed carry that lean and hungry look, while the reliable Alex Waldmann—now something of a versatile RSC stalwart—mines the complexities and pain of the play's most ambiguous character, Brutus, a man about to be torn apart by two horses.
Tyrant, revolutionary, democrat—the quartet is completed by the demagogue and arch-manipulator Mark Antony, brilliantly played with visible calculation by James Corrigan.
It is director Angus Jackson's particular achievement to calibrate the reactions between the four: the sideways, power-weighing glances of suspicion between Brutus and Cassius; the former's warning word in Antony's ear before the latter's speech over Caesar's body.
Look too for the dart aimed at Antony by Jon Tarcy's new Caesar Octavius as he talks of smiling companions with "millions of mischief" in their hearts that presages trouble to come involving a certain Egyptian queen.
Samuel Littell deserves special mention for making a very young professional debut as Brutus's boy Lucius. Not only was his own performance most impressive, but he drew the greatest gasp of an already bloody show when performed upon by his captors—as the loud crack was heard of his neck being broken. Truly a chance to appear on the RSC stage to die for.
Reviewer: Colin Davison