Julius Caesar
William Shakespeare
Royal Shakespeare Company
Royal Shakespeare Theatre, Stratford-upon-Avon
–

Listing details and ticket info...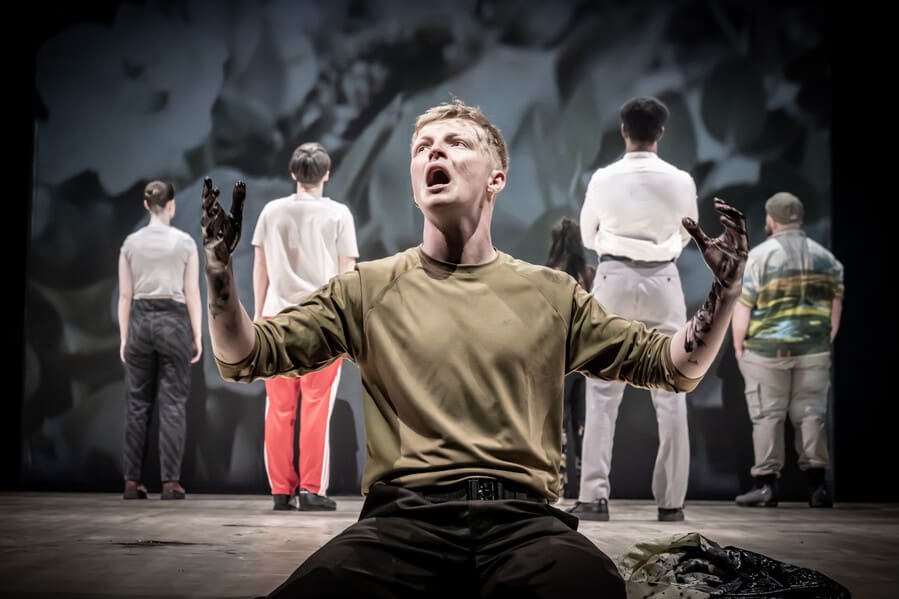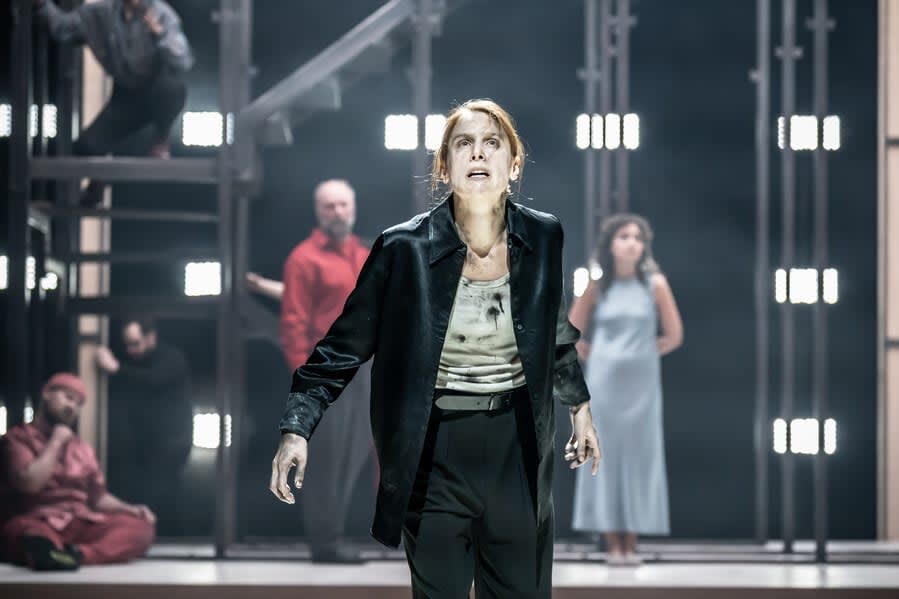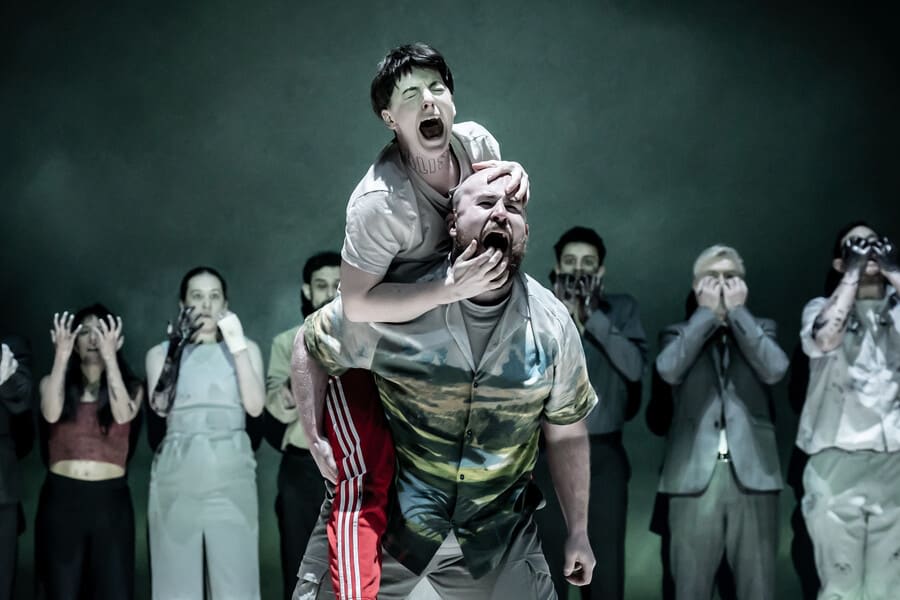 "Cry Havoc!" Mark Antony exclaims. That could be the watchword for Atri Banerjee's expressionistic, sometimes thrilling, sometimes baffling modern take on Shakespeare's greatest classical play.
That the tyranny and suffering will never end is evident in the trance-like writhing of actors, the projection onto a large screen of lowering clouds and seedlings that grow only to wither and a rotating grey box that gradually accommodates all who die as a consequence of Caesar's assassination.
The show opens to the threatening loud dissonance of a trombone played far above the stage. Indeed, the soundscape designed by Claire Windsor is one of the production's most successful features, including wolf cries and shrieks from the ensemble and the sighs of the black-clad, Greek-style chorus of women.
After the death of Caesar—a steadfast Nigel Barrett—the action stops for two minutes, counted down on a great digital clock, a time to pause and consider the action of the conspirators and its possible aftermath. It's a high-risk device, but Banerjee's audacity pays off. Here at least.
The murder itself leaves Caesar covered not in blood, but in black goo, which leaves him looking like a seagull killed by a massive oil spill. It's another bold stroke, besmirching for evermore its filthy stain on the arms and faces of plotters and Mark Antony alike.
Other aspects of the production are less successful. The deaf actor Jamal Ajala is reasonably cast as Lucius, but having him play another of Brutus's servants, who is made to participate in his master's suicide by sign language, inevitably dulls this climactic point of the drama.
The suffering common people of Rome are represented by the entire cast, stomping on and on, before and after the killing. Yet the mob itself, an important character in the changing fortunes of the city, is reduced to a one-person rabble, albeit as impressively impersonated by Annabel Baldwin, or to a voice-over interrogation of the unfortunate Cinna the Poet by a computer.
Strangest of all, the song to which Cassius listens before the battle of Philippi is a jolly-sounding Brazilian number. It might, as the programme explains, refer to life and mortality under dictatorship, but it sounds completely out of place, even in this modern, casually-dressed production.
The idiosyncrasies of the production should not overshadow some excellent performances in a cast dominated by female actors in male roles, in particular by Kelly Gough as Cassius and Thalissa Teixeira as Brutus.
Gough finds an anxious, nail-chewing fearfulness in her role as the chief conspirator, before putting on the resolution of the soldier, a mood that turns to fury when she believes herself distrusted. Teixeira wrestles visibly with similar doubts, but is never less than a commanding figure, even when most troubled.
William Robinson makes Mark Antony's great "Friends, Romans, Countrymen" speech his own, with quiet insinuation and roaring incitements. However, much of his later dialogue with Ella Dacres's Octavius was cut—a pity as its fuller exposition, in line with the slant of the production, makes clear the ruthlessness that will mark his ascendancy.
The show tours from 20 April to 24 June 2023, visiting Canterbury, Truro, Bradford, Newcastle, Blackpool, Nottingham, Norwich, York and Salford. Each venue will feature a chorus of six local women drawn from those involved in the community.
Reviewer: Colin Davison