Julius Caesar
William Shakespeare
Royal Shakespeare Company
The Lowry, Salford
–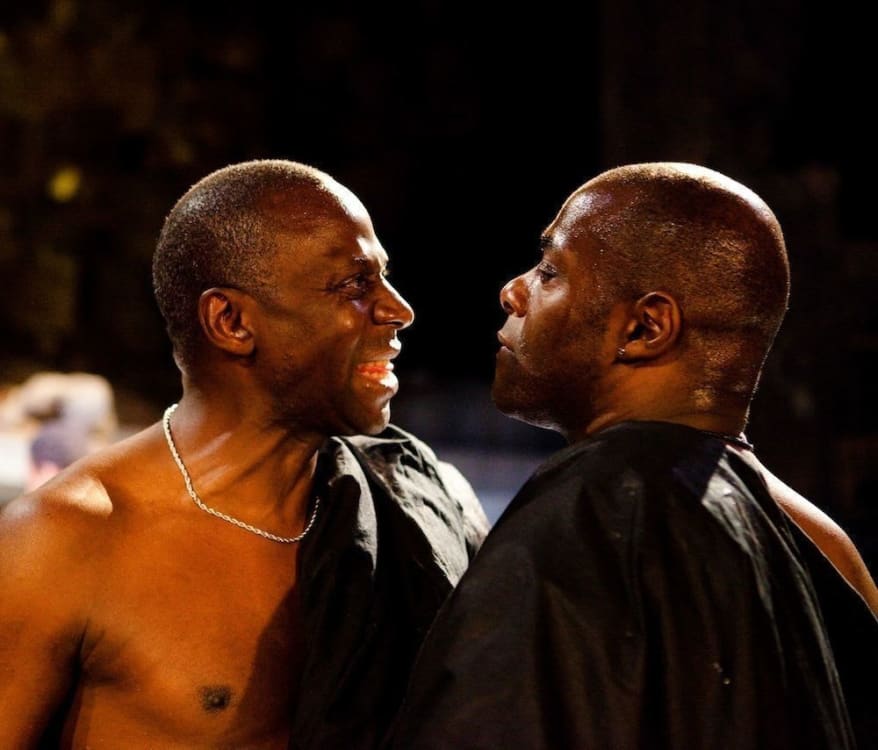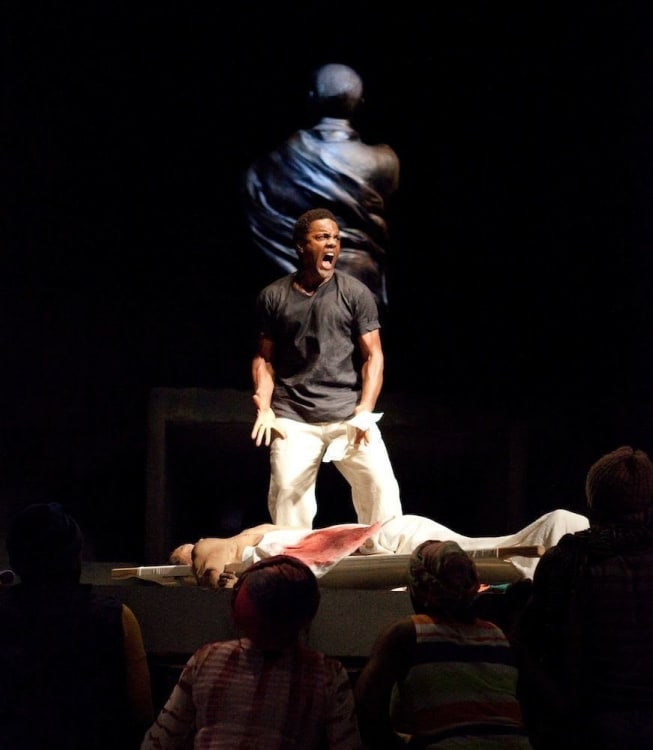 Created for its World Shakespeare Festival to run alongside the London 2012 Olympics, the Royal Shakespeare Company brings its production of Julius Caesar set in a modern African dictatorship to Salford, directed by incoming RSC artistic director Greg Doran.
Seen on TV earlier this year, the production takes place on a set of decaying concrete steps in the shadow of a huge statue only seen from the rear in Michael Vale's design. The crowd gathers on the steps including the musicians, who remain throughout to accompany various parts of the action with Akintayo Akinbode's music.
This is a play that is very well-known but not commonly performed—I don't think I've ever seen it on stage before—and so it is great to have the opportunity to see such a powerful production with an all-black cast of major British acting talent in the regions. The African setting blends seamlessly with the story of a leader removed from power by a political consortium of men who believe they have to kill Caesar to free their people from tyranny. The African speech rhythms are made to work very well with Shakespeare's verse, which is spoken with great clarity.
Jeffery Kissoon is very good as Caesar, but, despite the title, this isn't really his play; Brutus is the man whose transformation and leadership dictate the action of the play, and Paterson Joseph brings great power, charisma and a touch of humour to the role in a rivetting performance.
Despite having little to do for the first half of the play, Brutus's antagonist, ultimately, is Mark Anthony, who takes it upon himself to avenge Caesar's death with Octavius Caesar (Ivanno Jeremiah). Ray Fearon gives an incredibly powerful performance in this role, with absolutely compelling speeches before the interval as he soliloquises over Caesar's freshly-killed corpse and just after as he addresses his "friends, Romans and countrymen" at Caesar's funeral. He is a man capable of acting impulsively and with the passion of youth, but with the maturity and skill to manipulate people to his will with the power of his oratory. Are there any modern politicians who speak with such passion, intelligence and skill about things that really matter?
There are some wonderful performances elsewhere too, from Cyril Nri's jumpy, nervous Cassius and Joseph Mydell's laid-back Casca in shades to a beautiful portrayal of the relatively small but ultimately important character of Lucius, Brutus' boy servant, by Simon Manyonda. The female roles are fairly insignificant in this play even for Shakespeare, but there are strong performances from Adjoa Andoh as Portia and Ann Ogbomo as Calpurnia.
Gregory Doran's perfectly-paced production puts across the story with superb clarity and manages to bring great intimacy to a play on a large stage with a huge cast. It is a wonderful production of a very well-known Shakespeare play that is surprisingly hard to see on stage and so really is a must-see.
Reviewer: David Chadderton