Jumpers for Goalposts
Lily Hogan & Charlie Dunne
Meta4 Dance
Seaton Delaval Community Centre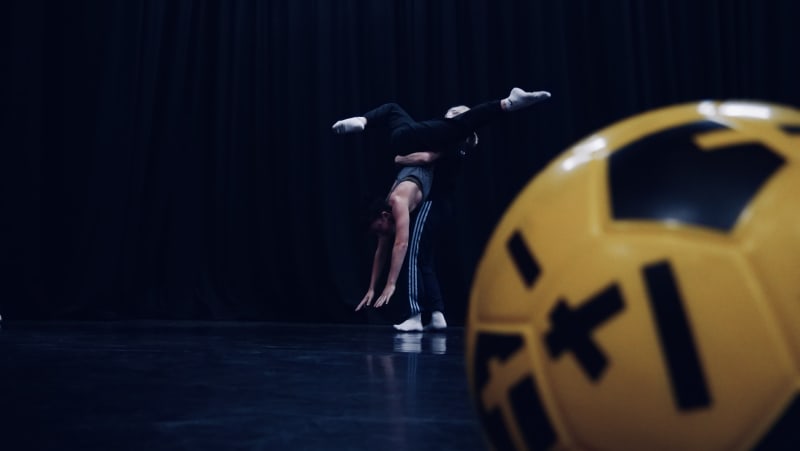 I don't usually review shows like this, but it was an irresistible invitation, so here I am in Seaton Delaval Community Centre, watching Meta4 Dance in Jumpers for Goalposts, their new touring show for families.
Meta4 Dance was founded by Lily Horgan and Charlie Dunne in 2018 and has increasing community access to dance and widening dance audiences, at its core.
In Jumpers for Goalposts, the 'team' made up of five women and two men are finding their feet, no pun intended! They're not as polished or unified as they could be and over 35 minutes we witness them, spurred on by Coach Carlos, finally finding their team spirit and unity.
Goal-getter Charlie gives us some pre-'match' chat and then we get into the action, the warmups, the little conflicts, shown through brief powerful duets and the first scrum. There's a solo from the coach with his strategy board, trying hard to encourage them and then a second scrum, which with its unison and slower pace was welcome. Back into the fray, which includes some all too brief trios and a very personable, if diva-like, player and finally Charlie's injury, which ultimately pulls the team together. The ending could have been even stronger in terms of sustained choreographic unity but a delightful and vigorous show well danced.
This is a fun piece, ideal for sports halls and community settings and it's combined with a workshop for youngsters; happily, refreshments bookend the performance! The choreography became almost too realistic, but all the performers are committed and well-rehearsed.
The performance is tightly linked to football itself and over time I'm sure the company will develop broader themes, keeping lots of the dancing; two lads in the audience loved "all the lifting and stamping."
It was a disappointingly small audience—the arts cuts to education budgets are biting deep—far too deep.
Meta4 Dance serves small communities and I hope they flourish as they deserve to.
Catch the 'team' tomorrow and Friday morning (27 and 28) at Thropton War Memorial Hall and Acklington Village Hall.
Reviewer: Dora Frankel