Jumpers for Goalposts
Tom Wells
Paines Plough, Watford Palace Theatre and Hull Truck
Watford Palace Theatre
–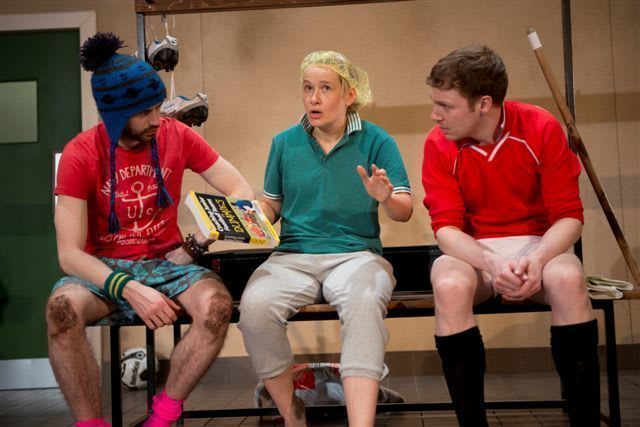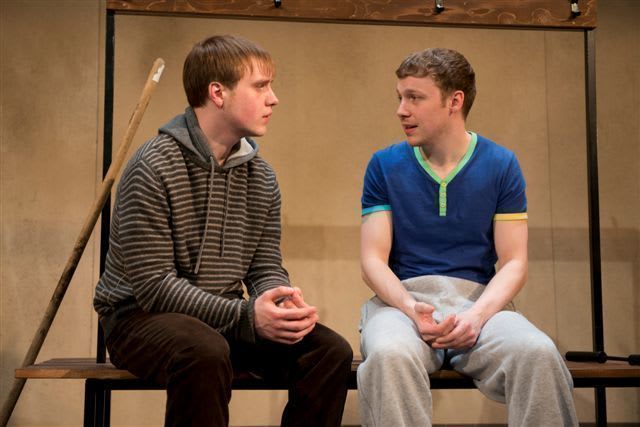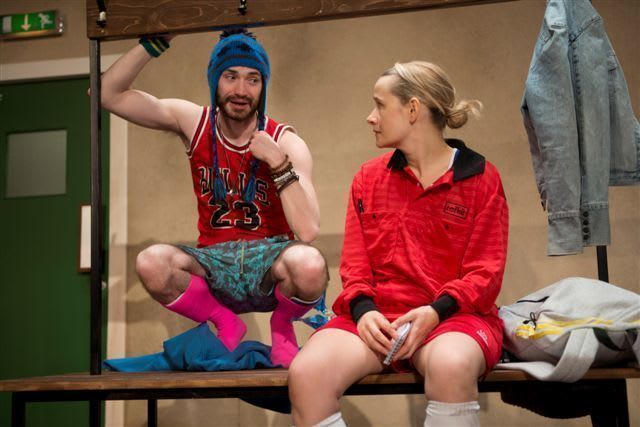 Award winner Tom Wells's new play is about a football team and is set in their dressing room. On first hearing I thought they were called Burnley but they have nothing to do with the club that currently stands at 11 in the Football League table.
It is no new thing to have the "beautiful game" and its relations on our stages and you can't help thinking of David Storey's The Changing Room with its study of macho male bonding in Rugby League. Back in 1971, its nudity aroused gay interest, though Noël Coward was dismissive on that score remarking "15 acorns are hardly worth the price of admission".
This new play is again set in Yorkshire but the last forty years have made a big difference. Theatre economics don't support a full football squad now. In this ninety-minute play, a single actor presents a five-a-side soccer team run by publican Viv. They are actually called Barely Athletic. Viv is a lesbian and her team is all gay, except for widowed brother-in-law Joe. They are competing for a GLBT cup against teams with similarly camp names: Man City, Tranny United, Lesbian Rovers.
Don't get the idea that this is a camp show. It is indeed very funny, but it is also very serious in the way that it looks at relationships. We are there for the aftermath of six matches, some won, some lost.
At first is Viv telling everybody off after a disastrous performance. The Lesbians may have called her a bully but Vivienne Gibbs makes her delightfully likeable—her pub would be one you want to drink in.
Though team performance is a thread through the whole play, it is the personal stories that emerge that make it interesting. There's newcomer young librarian Luke, recruited through a poster brought into the library. Shy and insecure and not strong on ball skills, Philip Duguid-McQuillan gives him a mixture of hesitancy and sudden outpouring that matches him precisely.
Danny, who is trying to become qualified as an official trainer, made the poster. He took an immediate shine to the boy in the library. Jamie Samuel suggests the shadow of disappointment that lies behind his gentle, charming manner, and he has a dark secret he can't bring himself to tell Luke, though the others probably know it.
Andy Rush's quirky musician Geoff doesn't take gay football very seriously, but he cares about people. His mind is on getting through an audition to perform at Hull's Gay Pride and move on from busking outside Marks and Spencers. His confidence took a knocking when he was gay-bashed; now he hides his injuries and insecurities under a tasselled beanie that upsets the opposition.
There are lots of levels here in both writing and acting. Those bred south of Watford may take a little time getting used to the accents but, here on the border, the audience was immediately responsive. It is a play full of humour but Wells's writing moves easily from laughs to pathos and pain.
If the progression of at least one strand in this story is predictable it is mawkish and nothing's wrong with a happy ending—well happyish. This is an optimistic glass half-full play, like Danny's attitude. They may lose a match 1-0 in the last minute but, as Wells's makes him put it, they will all remember for "the sight of that lad in a leopard-print miniskirt, slipping a ball between Joe's legs seconds before the final whistle".
Yorkshire has come a long way in forty years. Now you can have a play about a gay group that doesn't have to make the point they are gay and still strike a chord with a straight audience.
Reviewer: Howard Loxton