Jump!
Lisa McGee
Live Theatre, Newcastle
(2009)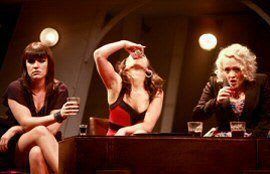 It's New Year's Eve: three girls are planning to go out on the town. They're waiting for a fourth to turn up and getting more and more drunk as they do so.
The scene changes. Two young lads are in a pub. One of them has got into a large amount of debt playing poker and can't pay. Unfortunately the debt is to a local hard man who he is now insisting they kill another local man who owes him money. If they don't, they'll be killed themselves.
And high on a bridge above the river a man and a girl are contemplating suicide. Will they jump or won't they?
It will come as no surprise that these three stories - in fact, it should be four because the would-be suicides each have their own - are inextricably intertwined.
On the way to the, it has to be said, fairly predictable dénouement there is much often black humour, many accusations and arguments, and some well-observed depiction of the modern binge-drinking lifestyle. The plotting is as intricate as any classic whodunnit, with many twists and turns but also with the inevitable tendency towards stereotypical characters: the girl who just wants to get wrecked, the not very bright lad who keeps doing and saying silly things, the lass with a chip on her shoulder... This shouldn't matter too much, given the nature of the piece, but there is at least one place (and I won't go into too much detail because I don't want to give anything away) where motivation is extremely important if the audience is to accept what happens, but that motivation is, at best, not clear.
It is very well performed. The cast of seven - Live Theatre regulars Vicky Elliott and Laura Norton and newcomers Bronagh Taggart, James Baxter (new to Live in the sense that, although he has been part of various projects, this is his first actual full play for the company), Harry Hepple, Frances McNamee (in her professional debut) and Neil Grainger - are all excellent and Linbury Prize winner Isla Shaw's impressive set makes the best of Live's rather idiosyncractic stage, helped by James Whiteside's lighting and supported by Martin Hodgson's sound.
Director Max Roberts keeps the action moving at a cracking pace, involving the audience throughout, getting them laughing where appropriate and audibly shocked at one point. It's an entertaining hour and forty minutes (no interval) but afterwards I still had that niggling motivation question: "But why did...?" And I was not alone in that.
"Jump!" runs at Live until 5th December
Reviewer: Peter Lathan