Jumpy
April de Angelis
Royal Court Theatre Production
Duke of York's Theatre
–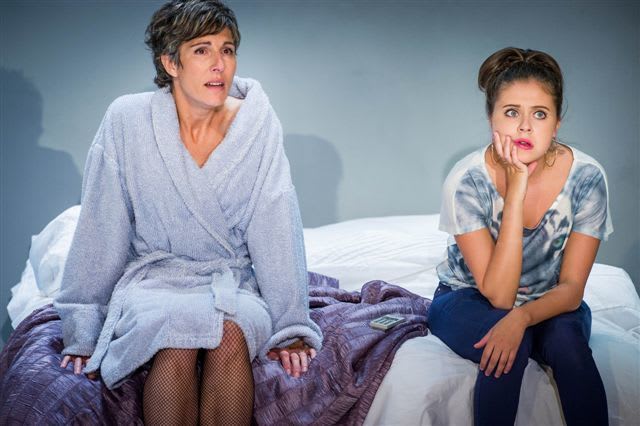 On one level, this funny and disturbing play seems to be asking where the hell did today's, irresponsible, self-obsessed children come from, continually texting and expecting to get their own way in everything.
An earlier generation used to blame it on those raised during the war, a generation that "never had it so good", spoiling their children so that they shouldn't suffer the deprivation that they felt they, perhaps, underwent. "What went wrong with our children?" is what parents have probably been asking for centuries, just as those growing up always seem to need to rebel in some way, but the generation gap today does seem extreme. Lives have been rapidly changing with new technology, new pressures and new mores and April de Angelis captures the situation precisely in the two disintegrating families with which she presents us.
Hilary, hitting fifty, is teetering on the edge of a breakdown. She looks back bewildered to her days as a Greenham Common activist and wonders what happened to her radical feminist ideals. She acknowledges her marriage is held together only by habit. Funding cuts threaten her job helping slow readers and she loses it but the shock is discovering that Tilly, her fifteen-year-old daughter is already having it off with schoolboy Josh.
From the moment she walks on loaded with shopping, Tamsin Greig embodies this woman with her confusion, her regrets and her guilts. Like Lizzie Clachan's architecturally ambiguous all-white set, her life seems bleached of colour. Whether in catatonic crack up, snatched illicit romance or in confrontation with her daughter, you cannot help but feel for her even as she makes you wryly laugh.
Bel Powley's vitriolic, sensation seeking Tilly would be a test for any parent. Does she have any justification for her behaviour? We certainly hear none beyond complaining that life with her parent is "so dull, just wine and talking", but for moments behind her shouting the performance gives you a glimpse of her insecurities.
Wine certainly seems to fuel Hilary's life; she'll have a glass even before she takes her coat off. That's encouraged by her old chum Frances, man-hungry and putting any thought of their former feminism behind her as she seeks satisfaction through a strident sexuality that culminates in a fetishist cabaret performance that Doon Mackichan makes hysterically funny. What a contrast to the conventionality of Josh's mother (Amanda Root), desperate to prevent fatherhood interfering with the boy's progress to Oxbridge.
The men take second pace to the women. Nevertheless both Hilary's bland husband Mark (Ewan Stewart) and Josh's actor father Roland (Richard Lintern) who clearly thinks he's God's gift to women, find their marriages disintegrate. Josh (James Musgrave) scarcely registers but Cam (Ben Lloyd-Hedges), a new older friend, gives hope that men can show understanding, though he sparks off whole new problems.
Nina Raine's production, interspersing the many scenes with bursts of pop music, keeps one always interested and she is well served by all the cast, but despite the laughter it has a sharp, critical edge and there is no attempt to make you like these people.
Strangely, it is Tilly's schoolfriend Lyndsey who provides a ray of hope. At the beginning of the play she is hugely pregnant and Seline Mizli makes her seem shallow and not too bright, but she is the one character that grows and changes, protective of her baby, responsible and caring.
Reviewer: Howard Loxton