Jungle Book reimagined
Written by Tariq Jordan, choreography by Akram Khan
Akram Khan Company
Curve Theatre, Leicester
–

Listing details and ticket info...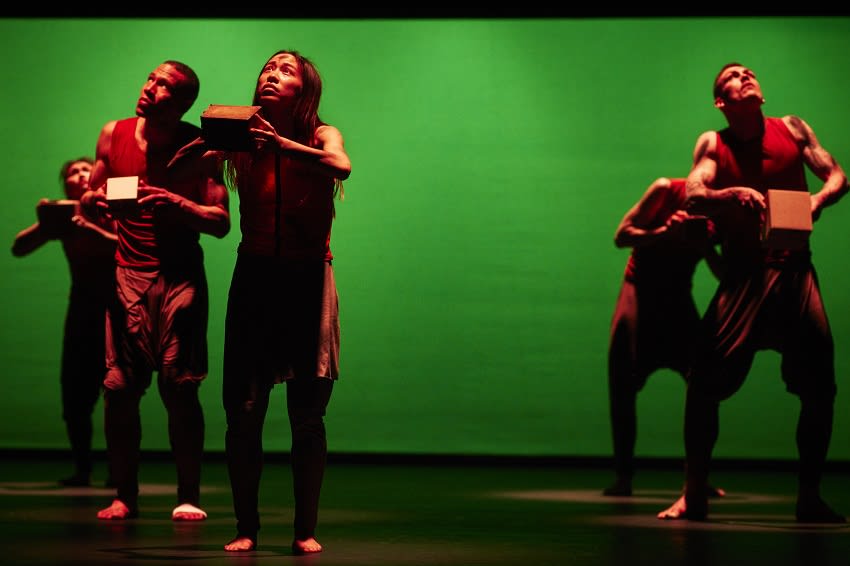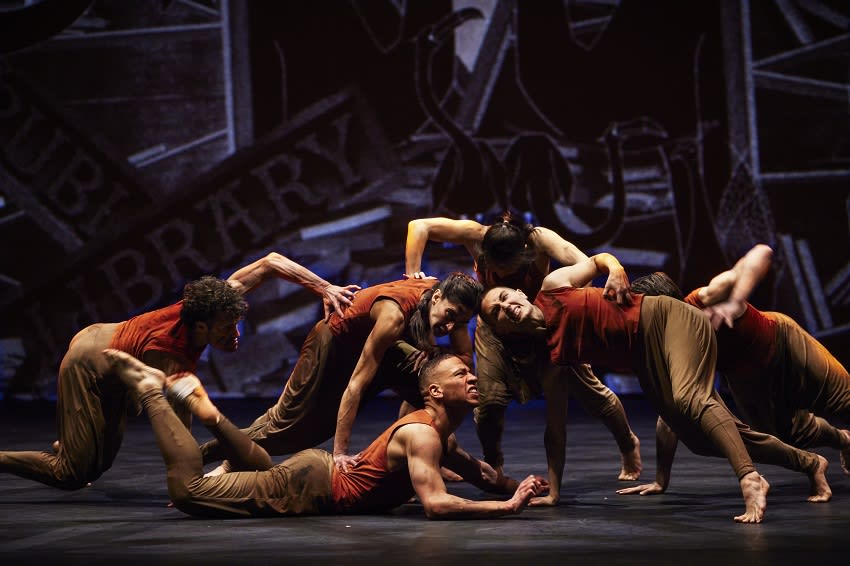 If you're expecting the fun of "Bear Necessities" and cute animals, then I must warn you: Disney this ain't.
Akram Khan's Jungle Book reimagined has opened with a world première at Curve Theatre, and prior to a short European tour.
Written by Tariq Jordan, this production edges back from the well-known Disney classic animation towards Kipling's original children's story The Jungle Book, but then propels us forward somewhere into the future beyond the 2030s into a dystopian world where water levels are rising and Earth's inhabitants are on the move, searching for higher ground. We—humans and animals—are all climate refugees.
Khan is a masterful storyteller and he and his team have created a profoundly moving and intense theatrical experience using a variety of media. This includes animation and video projection by Naaman Azhari and Yeast Culture, recorded dialogue, Gareth Fry's searing soundscape, music by Jocelyn Pook together with supremely versatile dancers.
Snippets of news reports highlight a worsening global situation as a screen rises on a disparate group appearing to beg for food on a baking Earth. Then the rain comes.
An animated seascape is littered with rafts crammed with people, tossed in the waves as they search for higher land. A young girl falls overboard but whales take her to safety and she is taken in by a pack of wolves led by Akela, who live in an abandoned, flooded city. Naming her Mowgli, the wolves allow her to stay if she helps them find food. Accompanied by Bagheera, an albino panther, and Baloo, an escaped dancing bear, Mowgli is kidnapped by the Bandar-log, a cunning group of lab monkeys with a mission to become human following exposure to jingles, slogans and speeches heard on the radio.
Baloo and Bagheera seek out the python Kaa—a hissing, swirling snake of dancers holding boxes aloft—in their quest to save Mowgli. Ever watchful is Chil, a kite who flies across land and sea, resonant of a bird of peace. Also ever-present is the threat of a lone hunter—a human with a gun. The dramatic ending is both painfully portentous but hopeful.
The physicality of the dancers is hugely impressive; they play multiple roles but all inhabit and clearly display the movements of various animals, particularly the wolves and monkeys, with Bagheera's prowling power (Holly Vallis), and lumbering swagger of Baloo (Tom Davis-Dunn). Bagheera and Baloo's comic interludes also help to lighten an otherwise dark tale. Jan Mikaela Villanueva as Mowgli is tender and child-like and we discover this new terrifying world through her.
The overriding word for this production for me is haunting—characters are haunted by their various pasts: Bagheera remembering her grassy plains, Mowgli's frequent visions and memories of her mother, the lab monkeys' chilling behaviour thanks to their treatment by humans and Kaa's trauma following years spent in a glass box in a zoo. The fragments of speeches, including Greta Thunberg's "How dare you" and "Blah, blah, blah", remind of our duty to listen and act now. We are unfortunately all too familiar with the current desperate plight of refugees—the future presented here is of a war of nature perpetrated by humankind.
Miriam Buether's stage design reflects the debris of our lives: cardboard boxes, shopping trolleys, discarded rubbish. Khan is keen to ensure this imaginative production also minimises its impact on the environment, deliberately harnessing technology to reduce the need to transport a large set.
Suggested viewing is for ages of ten upwards, which I feel is right. It is a dark, worrying tale but so pertinent for now. Mowgli as a child to be listened to for the future of Earth, together with the simpler animations of the animal kingdom help to keep this true to the roots of Jungle Book reimagined as a children's story.
The gnawing knot of tension as I left the theatre was if we don't listen and act now, how will future generations view our actions? A haunting prospect.
Reviewer: Sally Jack