The Jungle Book
Adapted by Stuart Paterson from the book by Rudyard Kipling. Music by BB Cooper with lyrics by Barb Jungr
Birmingham Stage Company
Sunderland Empire and touring
(2006)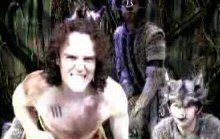 I've seen the Disney animation of The Jungle Book too many times to count, thanks to my partner, and the 1942 movie starring Sabu a fair few times. So I know I can't expect much of either of them from The Birmingham Stage Company's stage production, or can I? As a packed out audience of parents with their children surrounded me and the set looked like a very welcoming Jungle Gym, I was beginning to think it might slide more toward Disney.
For anyone who does not know the story of The Jungle Book, it is a tale of little Mowgli, a man cub who is saved from the jaws of a vicious tiger named Shere Khan. Saved by a pack of wolves and taught the ways or the jungle by Baloo the bear, Mowgli must survive in the new environment and avoid the traps set by the evil Shere Khan.
This classic tale is brought to life by an OTT cast who fill the stage with the voices and bodies of all the animals of the jungle. In a slightly pantomime style the cast tell the tale with ease, making the children in the audience understand perfectly what's going on. Having done children's shows a fair few times myself, I know holding their attention can be hard, but this audience was focused throughout.
The main focus has to be man cub Mowgli and playing him with child like innocence and mischief was Tony Hasnath who has been perfectly cast, looking both like Sabu and the Disney Mowgli. Moving round the stage with ease and delight, he had no trouble convincing the audience he was this little jungle boy.
The songs from BB Cooper and Barb Jungr are not musical classics by a long shot, not catchy, easy to remember melodies or strong lyrics. Their strength is that they do the job to tell a tale, easy to follow and easy for kids to clap along to. Stephen Schwartz wont be losing any sleep!
The set designed by Jacqueline Trousdale was very child-like, again owing a little more to Disney than the movie. It looked as if during the day it could be used in a playground with kids swinging, sliding and climbing all around it with great pleasure. Instead she has created the perfect playground for the cast to enjoy. They play just as happily on stage as any kid would.
Lighting by Jason Taylor made Trousdale's set come to life even more, with such bright beautiful colour and subtle mood lighting for more dramatic scenes. With his lighting design he brings to life the jungle just as much as the animals and plants do.
The Birmingham Stage Company have done a wonderful job of bringing a well loved story to the stage. Not much for adults or a classic piece of drama but an easy, OTT, fun and entertaining night. This is classic children's theatre of a classic children's tale!
Reviewer: Wayne Miller