Jus' Like That: A Night Out with Tommy Cooper
John Fisher
Presented by Mark Goucher Ltd and Lee Menzies
Wyvern Theatre, Swindon, and touring
(2010)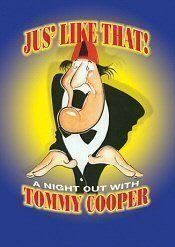 Tommy Cooper was one of the most endearing of comics who became a British institution with his riotous irreverent humour and magic tricks that mostly went wrong. His shows were a regular feature on weekend television in the early seventies and I must admit that I am from the generation that remembers watching him on the 'box'.
Tragically he died on stage during a Royal Variety performance in 1984. Writer John Fisher has lovingly created an outstanding tribute to the man in his trademark fez with his striking show, Jus' Like That: A Night Out With Tommy Cooper, part of the excellent spring programme at the Wyvern Theatre in Swindon.
Clive Mantle, who featured in Casualty, Holby City and The Vicar of Dibley, plays Cooper with passion, commitment and flair. There is a remarkable resemblance to Cooper since Mantle is also over six feet tall and has a similar build. He plays his hero sublimely, delivering the one-liners with fervour and performing the magic as a true trouper, even when they do go wrong.
The jokes are delivered so fast you just finish laughing at one when another rattles along and they are all classics. " I went into a pub and had a ploughman's lunch - he wasn't happy!" or "The producer said how do you feel? I said a little funny and he said well you better get out there before it wears off" and the story about backing a horse at twenty to one and it came in at twenty to four - I think this now features on a birthday card!
The first act consists of a compilation of the best moments from Cooper's illustrious repertoire. Many of the classic routines are fondly performed; the iconic glass bottle, bottle glass trick, the egg trick which works gaining spontaneous applause and the hilarious box routine where he tells a story using different hats to help with the characters with side-splitting results.
Act two begins backstage with Cooper being wakened from a drunken stupor by his mistress Mary (Carla Mendonca), who also plays the ladies in his world. Like many great comedians Cooper had a sad private life, estranged from his wife and son he turned to alcohol, cigarettes and pills to help him cope. His untimely death was poignantly presented with Mendonca complete with angel wings playing at a white grand piano with Cooper cracking the joke, "My wife was an angel. She was always harping on about something."
This was a true tour de force performance by Clive Mantle and even if you didn't remember Tommy Cooper you had to laugh along with the comedy and appreciate the sheer artistry of the performance. Highly recommended.
Touring until 13th June
Reviewer: Robin Strapp