Just So
Farrukh & Danyal Dhondy
Lucid Arts & Tara Arts at Tête á Tête Opera Festival
Riverside Studios
–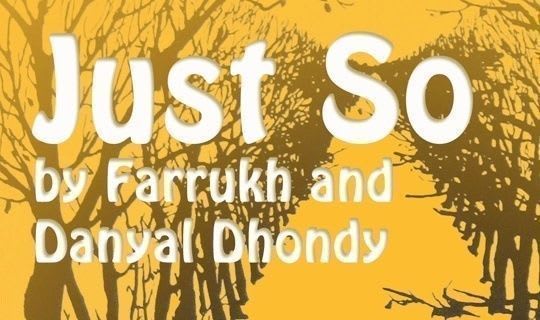 Described as "an opera in progress" this is the first airing of an adaptation of Rudyard Kipling's Just So Stories with a libretto by novelist and dramatist Farrukh Dhondy and a score by Danyal Dhondy who is probably best known to theatre-goers for his arrangements of opera for OperaUpClose at the King's Head.
It doesn't include all the stories but with a cast of five playing all the characters as well as providing a narrator we get some of the favourites. After an introduction that presents us with a cave-woman and her domesticated companions Dog, Horse and Cow—plus the independent Cat—we have the fantastical tales of How the Whale Got His Throat, How the Rhinoceros Got His Skin, How the Leopard Got His Spot, and of the Cat's adoption of domesticity through continuing to be The Cat that Walked by Himself (in this case Herself), ending in a lively quintet that celebrates the world's wonderful variety.
As they left, I heard several of the audience describe this hour-long piece as "delightful"—and it is, though this first airing after comparatively a short rehearsal period suggested rather than revealed its full potential. Farrukh Dhondy has adapted the stories fairly freely and with a jokey freshness in what sounds like rhyming verse. Though his story-teller occasionally follows Kipling in addressing his audience as "best beloved", he has his own ways of making it delightfully informal. His Whale tells us, "I love the fish; I leave the chips" and the mariner he has swallowed is "begging the Almighty to take him back to Blighty". While as the stories draw to their close we are told, "One more thing I want you to know / No mice or cats were harmed in this show."
Danyal Dhondy works as performer and arranger across a wide musical field and this is reflected in his composition. The choice of subject suggests this is intended for a family audience and it's got plenty of bouncy tunes to engage young listeners as well as a contemporary music feel for parental opera buffs. There is delightfully jazzy touch at some points, especially in the Rhino's encounter with the Parsee cake-maker. He himself conducts a splendid band with musical director Catherine Herriot on piano, Flora Curzon on violin, Hugh Christie double bass, Hassan Mohyeddin percussion and Ross Newton clarinet and saxophone.
The singers could all do with a little more volume and projection to get the words across and make more connection with the audience but they were singing for the first time to an audience in this space and this apparently small studio space is deeper than, perhaps, they imagined. Some of them clearly find the setting challengingly high for clear articulation, but this is a work where you really do want to enjoy the text and hear the story.
I would also like to have seen much stronger characterisation; their own personalities came over rather than their roles, especially with those who were doubling. Strongest were Rebecca Moon, playing the slinky Cat and flickering Fish, and Dionysios Kyropoulos as the Whale, Leopard and Cow. Sohini Alam was Horse, Parsee and an engaging Narrator—though some rather drawn out phrases in the score need stronger emphasis to put them over—Felicity Hayward plays the Woman and the greedy Rhino and Ezra Williams the Dog and unfortunate Sailor.
Director Jatinder Verma has staged it very simply with the chamber orchestra on one side of the stage and a row of chairs on the other to which the singers retire when not part of the action and the stories follow each other fluidly. Designer Claudia Mayer and costumier Buffy Sharpe have dispensed with a set and put everyone in Indian-style tunics with scarves that at first are used to add mystery as they hold them before them and then by their individual features help identify character or become, for instance, the Rhino's hide. Clear plastic umbrellas are cleverly used to give us sea scenes and strongly-coloured lighting adds added interest to surfaces. It is an approach that is entirely appropriate to a piece that concentrates on storytelling and, despite its simplicity, attention is held by the action, the visual focus never drifting across to the musicians.
As a work described as "in progress", it is clear that its creators, like others presenting work in the two week long Tête á Tête Opera Festival, see this as an opportunity to test out new work and to aid its development. It will be interesting to see how Just So develops.
Reviewer: Howard Loxton