Just So
Music by George Styles, lyrics by Anthony Drewe
The Watermill Theatre
Watermill Theatre Newbury
–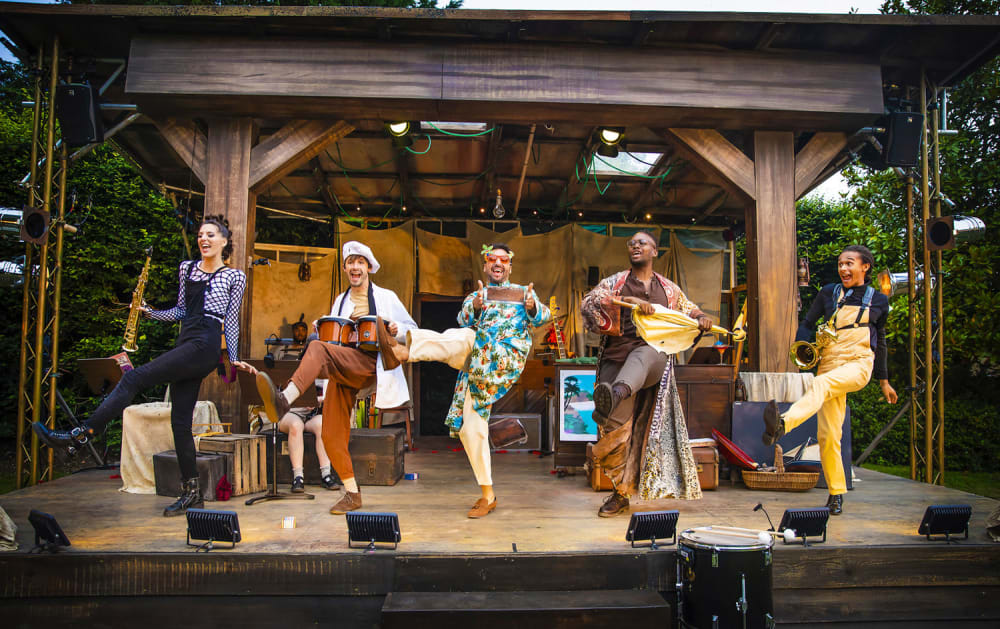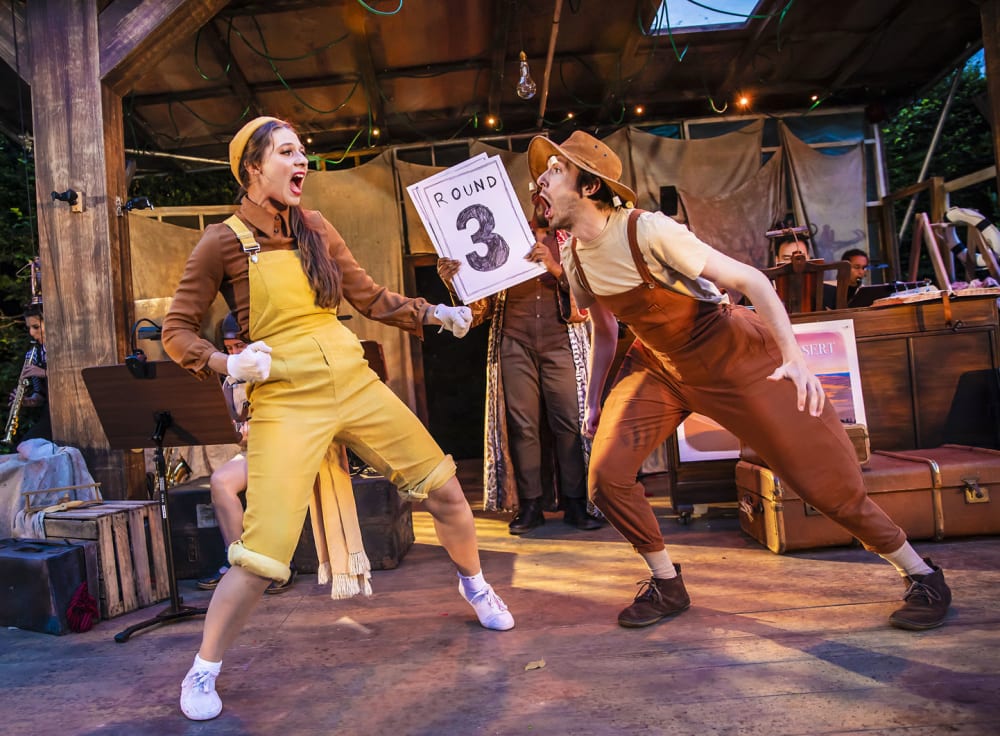 Just So was first performed at the Watermill Theatre in 1989 and it was good to see it returning to its 'home' for this 2021 semi-staged concert production with George Stiles, who wrote the music, and Anthony Drewe, the lyrics, in the audience.
Based on Rudyard Kipling's delightful children's stories, this effervescent, colourful, musical feast is blessed by a terrific cast who exude energy and pizzazz as they bring the tales to life on stage.
Dressed in different coloured dungarees, with costumes designed by Katie Lias, they cleverly reflect the various animals characters and the imaginative set using large illustrations as if from a picture book to suggest "The Jungle" or 'The Veldt" works well.
The excellent Nathanael Campbell is the eldest magician and our storyteller who opens the magical storybook and begins, "at the time of the very beginning," as he creates all the creatures in the world. However, they all look the same and so he tasks them to find their individuality and "go out to play together."
But all is not well as the elephants need to find higher ground as the earth begins to flood as Pau Amma the giant crab causes havoc with the tides as he searches for food.
The intrepid, insatiably curious elephant child (Eleanor Kane) and the exotic flamingo Kolokolo Bird (Emma Lucia), complete with pink feather boa, set off on a quest to find him in the "dark grey-green greasy Limpopo River" and try to persuade him to change his ways.
Their sea journey takes them to a desert island where they find the flamboyant Parsee Man (Dan De Cruz) sipping cocktails. He also plays a sleek jaguar and is the musical director for the show.
He is served by his devoted Cooking Stove, complete with chef's hat, played by Peter Mooney, who also provides much comedy as a Kangaroo.
Laura Andresen Guimarães as the Zebra and Emma Jane Morton playing the Giraffe are portrayed as typical Essex girls. But little did they know that the Jaguar and the Leopard (Kemi Clarke) are planning to, "take the girls out for dinner"—quite literally!
Along the way, we learn how the Rhino (Alexander Bean) got his wrinkly skin.
Eventually, the Elephant Child arrives at the Limpopo River where he asks the crocodile for help but gets his nose trapped in his jaws, well a suitcase— clever touch—and as he tries to escape, his trunk grows bigger. So that's how he got his long trunk.
As to the crab, he is shrunk to a normal size and the seas return to normal. Mission completed, proving that an individual with courage can make a difference.
The musicianship of this highly accomplished cast is impressive, each playing a wide variety of instruments, and Christopher Jahnke's orchestration raises the bar.
Director Abigail Pickard Price creates a show brimming with inventiveness. This is a family show not to be missed "Oh Best Beloved."
Reviewer: Robin Strapp