Just to Get Married
Cicely Hamilton
Papercut Theatre in association with Neil McPherson for the Finborough Theatre
Finborough Theatre
–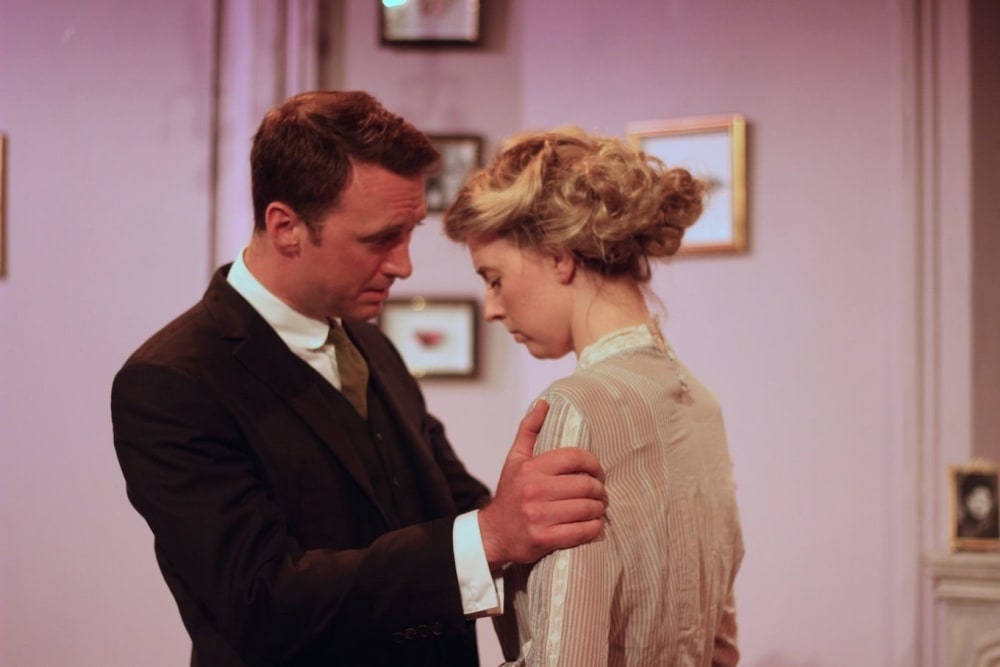 Feminist actress Cicely Hamilton's Just to Get Married was written when the suffrage movement was growing and becoming increasingly militant. It premièred at the Coronet Theatre in 1911, three years after the success of her best-known play Diana of Dobson (which looked at the lives of contemporary shop girls) and two years since she published Marriage as a Trade (which argued against bringing up girls to think of their future only as wives and mothers).
Just to Get Married presents a young woman, Georgina Vicary, in just that predicament. Nearing thirty, she has been trained to do nothing and is in desperate need of a husband. Orphaned and lacking money of her own, she has been dependent upon her aunt and her uncle, Sir Theodore Grayle.
The play opens with guests gossiping in the drawing room of Sir Theodore's country house. Two friends of the family speculate on whether another house guest, Adam Lankester, a man recently returned from some years in a remote part of Canada, will pop the question and ask Georgie to marry him. He seems attracted but tongue-tied and it is a matter of urgency for he is going to leave again in the morning.
The situation is set up at length (and the information is reprised by Sir Theodore and his wife that soon follows). Perhaps the point needs making more obviously to an early twentieth-century audience but things get more lively with Philippe Quinn's entrance as Georgie. Beautifully coiffed and elegantly dressed—her aunt had taken her to town to replenish her wardrobe to make her better bait for the potential suitor—and it has worked. She looks lovely and shows plenty of spirit but it is clear that she too sees this is almost her last chance to secure her future.
There is just a hint of an alternative lifestyle when her artist friend Frances (subtly suggested by Tania Amsel) proposes she moves in with her in London but her studio and hand-to-mouth existence don't compare with Adam's apparent £3,000-a-year income. "When you are a pauper, you have to take what comes along," is Georgie's feeling, but does she really want this marriage? "Everyone expects it of me and I expect it of myself," is her answer.
The play moves into full comic mode as the family and Georgina try to engineer a situation that will elicit Adam's proposal. One he's managed to make it and Adam's tongue is loosed, Jonny McPherson reveals the social misfit as charming and loquacious.
The second act, two months later, is the day of Georgina's wedding. He's been writing to her every day, spilling out his happy adoration, but he is feeling guilty at her pretence of matrimonial affection. She can't face a fake future, declares, "I never loved you," and calls off the wedding.
Of course, he's shattered. "It's devilish what you've done. You've taken my life and broken it in your cruel little fingers." Passionately played by both actors, Adam's romantic dream is shattered and Georgie throws away a secure future. What can follow?
This isn't Ibsen but late Edwardian West End: there's a "happy" ending. That doesn't make any difference to Hamilton's argument.
Just to Get Married is very elegantly mounted by designers Katherine Davies Herbst and Lottie Smith (plus a little audience imagination to turn a drawing room into a railway station) and Melissa Dunne's direction concentrates the action around the argument. The Grayle household's cut-glass voices and upper-class aura seem a little unnatural, almost archly Wildean, but this is Edwardian dialogue, not easy for actors to make ordinary, and in its way this emphasises the class difference also inherent in Hamilton's feminist and political thinking.
Although the play may now seem tailored to suit a 1911 West End audience, it still makes a strong statement and this revival shows how it makes its points while entertaining. It is also a reminder of how far society has changed in the last century—and of how much it hasn't in terms of equality.
Reviewer: Howard Loxton