Justitia
Concept, direction and choreography by Jasmin Vardimon
Created and performed by Paul Blackman, Luke Burrough, Tim Casson, Victoria Fox, Christine Gouzelis, Athanasia Kanellopoulu, YunKrung Song and Jasmin Vardimon
Peacock Theatre, Sadler's Wells
(2007)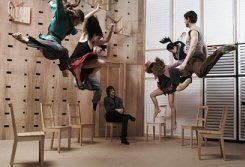 Murder mystery plays were once the staple diet of West End theatre. Now they are the staple diet of television. Murder has always been popular entertainment for the masses from time immemorial. Sophocles's Oedipus Rex (c 425 BC) still remains the best detective story ever written with an unforgettable dénouement. The Ancient Greeks had the decency to keep the violence off-stage. The Romans put it centre stage at the Coliseum.
Murder has continued to remain high on theatrical, operatic and cinematic agendas. Murder is pretty rare in dance, though two of the best gangster spoofs have been ballets. George Balanchine's Slaughter on Tenth Avenue was first seen in Richard Rodgers and Lorenz Hart's musical On Your Toes, in 1936. Michael Kidd's Girl Hunt appeared in the 1953 film Bandwagon, memorably danced by Fred Astaire and Cyd Charisse.
You would think that courtroom dramas, which, inevitably, rely entirely on dialogue, would present problems for a choreographer. The award-winning Jasmin Vardimon - who is probably best known to dance drama aficionados for Park and Lullaby - solves the problem by using movement and dialogue.
Justitia, her latest work, is, as usual, a collaboration between Vardimon and her dancers. She always starts with the emotion and, most unusual for a choreographer, the sound and the music are not added until everything else is in place.
A man is killed. A woman is charged. Was it an accident, self-defence or murder? The action, which is seen from different perspectives, takes places on a turntable, which is constantly revolving and which is stage-managed by the dancers themselves. The location shifts from the scene of the crime to the courtroom and then to a group therapy class and then back and forth between these three settings.
The dancers' body language is always far more adventurous, far more original and infinitely more interesting than the trite dialogue, which is poorly delivered. There is, in fact, far too much dialogue. A one-act scenario is stretched unnecessarily to two acts with interval. The boring therapy session, which goes on and on and on, should be cut immediately.
There is a lot of work still to be done; but even as it stands, there is much to enjoy. Go and see Justitia for its extraordinary and unexpected choreography. Go for its physicality, its energy, and its humour. The regular re-winding of the action is the best I have seen. The kung-fu send-up is very funny and the final perpetually changing images on the revolving carousel are particularly haunting.
Jasmin Vardimon is an innovative force to be reckoned with and she has recently been appointed Associate Artist of Sadler's Wells.
The UK Tour includes: Southport, Truro, Stirling, Bracknell, Newport, Poole, Nottingham, Kendal, Taunton and Salford Keys
Terry O'Donovan reviewed the 2009 revival at Sadler's Wells
Reviewer: Robert Tanitch