Justitia
Jasmin Vardimon
Peacock Theatre, Sadler's Wells
(2009)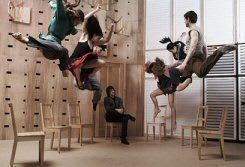 Justitia opens with a spine-chillingly beautiful scene which sums up the theatrical forces at play in Jasmin Vardimon's excellent courtroom dance drama. Vardimon sits at a desk clattering on the keys of a typewriter. She is dwarfed by the walls around her, reminiscent of a cell: one large white wall and another with slits and holes. Light begins to stream in through these holes, gorgeously illuminating the stage and inviting the outside world into that of Vardimon. As she continues to type her hands dart from the keys and her body takes over her storytelling.
Merle Hensel's imposing and integral set - three rooms on a revolve - spins round to reveal another typist: a stenographer sweetly detailing the meeting of a British man, Mr Cain, and a Korean woman who fall in love and marry. Their meeting and courtship is lovingly performed by Luke Burrough and Yun Krung Song using a large rug on which they slip and slide, pull each other close and which also becomes her wedding dress.
Fast-forward to the present where Mr Cain and his best friend (Paul Blackman) goof around in a hilarious and physically imaginative ode to the masculine need to whack and punch each other, reminiscent of DV8's Enter Achilles. They spin and crash, fling each other from room to room and hop through a series of physical obscenities.
Suddenly we're thrown into a courtroom. Enter Mafalda Deville as hard-hitting defence lawyer ("My stiletto will slice against your throat") for the young bride who is now accused of murdering her husband's friend.
Through 95 minutes of material, we are plunged into different versions of what could have happened in the ten minutes during which time Mr Cain left his wife and friend alone, at the end of which he was dead. What makes Justitia stand out from a run-of-the-mill whodunnit is the total theatre experience which Vardimon, in collaboration with writer Rebecca Lenkiewicz, thrillingly creates.
We see different versions of what might have happened, each time with the ending being rewound. This is most arresting during a scene in which Blackman brutally attempts to rape Song accompanied by Johnny Cash's version of Bridge Over Troubled Water. Ultimately, we never know what really did happen.
Running parallel to the trial, slightly less successfully, we get a glimpse into each characters' private guilt in the form of group therapy sessions in which the company retreat from opening up and sharing their pasts. These sections lack the bold choreography which defines the piece and become slightly chichéd in their content, with David Gonorf's female character becoming lost within the narrative. Only the stenographer's struggle with the words she transcribes shines through, brought to life touchingly by Christine Gouzelis alongside a poetic monologue by Lenkiewicz. It's a character within a courtroom drama into whom we rarely gain an insight. Gouzelis and Deville's lawyer are paralleled in a visceral and awesome duet in which they twist their bodies mid-air into a variety of positions which evoke their conscience's inner pain and struggles.
There are numerous moments of outstanding choreography and set-pieces: the company ascending a wall of chairs and disappearing at the summit; a scene in which black-clad puppeteers make it possible for Song and Blackman to become ninja-like enemies in a Matrix-style fight sequence; and the touching ending in which the ensemble end up stuck flat against the large white wall - puppets of Vardimon's imagination. Justitia is a triumphant piece of dance-theatre overflowing with moving monologues, powerful performances and surprising choreography.
Terry interviewed Jasmin Vardimon earlier this year
Robert Tanitch reviewed the original production at Sadler's Well in 2007
Reviewer: Terry O'Donovan