I Just Stopped By to See the Man
Stephen Jeffreys
Octagon Theatre, Bolton
(2005)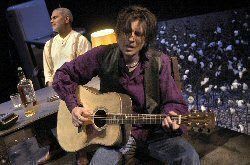 With the northern premiere of Stephen Jeffreys's play, the Octagon has once again presented us with a play that features live music performances, although not to the same extent as its production of Jim Cartwright's Eight Miles High in June.
The play is based around the legend of an old blues player, Jesse Davidson (loosely based on real-life bluesman Robert Johnson), who is said to have sold his soul to the Devil to gain his extraordinary musical talent. He hit the headlines in 1961 when he was said to have died with his wife in a car crash, but as the play opens - fourteen years later - in an old shack in Mississippi where Jesse lives with his daughter Della, we know from the start that the rumours that he is still alive are true. Enter Karl, the front man for a huge British rock band on a stadium rock tour of the US who idolises Jesse and investigates these rumours. When he finds his musical hero is still alive, he puts to him the idea of a big comeback that Jesse finds very tempting but very difficult to accept.
This is a fascinating, thoughtful play with a great deal of humour and tenderness and a nice story. The play touches on a few political issues, particularly to do with racial politics in the seventies, but it deals more with how different generations look at and deal with the same issues in different ways than about the politics. The main issues in this play, though, revolve around the music and its effects on those who create it and their families. However, at nearly three hours long including the interval, it could benefit from some trimming, as there are times when it appears to be going on a bit or spouting the writer's opinions without any benefit to the play. This is not helped by the stifling heat in the theatre; if the Octagon is to continue to put on plays of this length, it should think about investing in some air conditioning.
Mark Babych has directed a perfectly-paced production with an excellent cast. Wyllie Longmore is perfect as Jesse, the crotchety old musician who gave up his whole life when his wife was killed but who cannot get the music out of his blood. James Clyde's portrayal of Karl is a wonderful creation, sort of a cross between Mick Jaggar and Peter Cook, that brings a lot of laughs and life to the earlier scenes but has enough depth to carry the more serious scenes later on. Although this portrayal works beautifully for nearly all of the play, it jars for one tiny moment when Jesse asks Karl why he talks like he does if he is from Surrey as he sounds as though he has been dropped into New Orleans for a while - there is no trace of New Orleans in Clyde's accent at all. As Karl, Clyde also has to sing and play guitar for a couple of old blues songs, which he manages to pull off impressively. The trio is completed by Hannah Lockerman as Jesse's daughter Della with the radical politics and a dark secret.
Hannah Clark's set shows the inside of the shack in distorted perspective using a raked stage, which is visually very striking, although the refrigerator and the sink look a little precarious. Outside the house, we can see some cotton plants to remind us of Jesse's younger days working on the cotton plantations. Whenever the music of the past comes back to haunt Jesse, bright white light shines up through the cracks between the floorboards, which looks very effective.
Once again, the Octagon has given us a high quality production of a very interesting new play with an excellent cast that is well worth seeing.
"I Just Stopped By To See The Man" runs until 15th October 2005
Reviewer: David Chadderton