JV2 2019
Jasmin Vardimon, David Lloyd and Doulgeri
Jasmin Vardimon Company
Lilian Baylis Studio, Sadler's Wells
–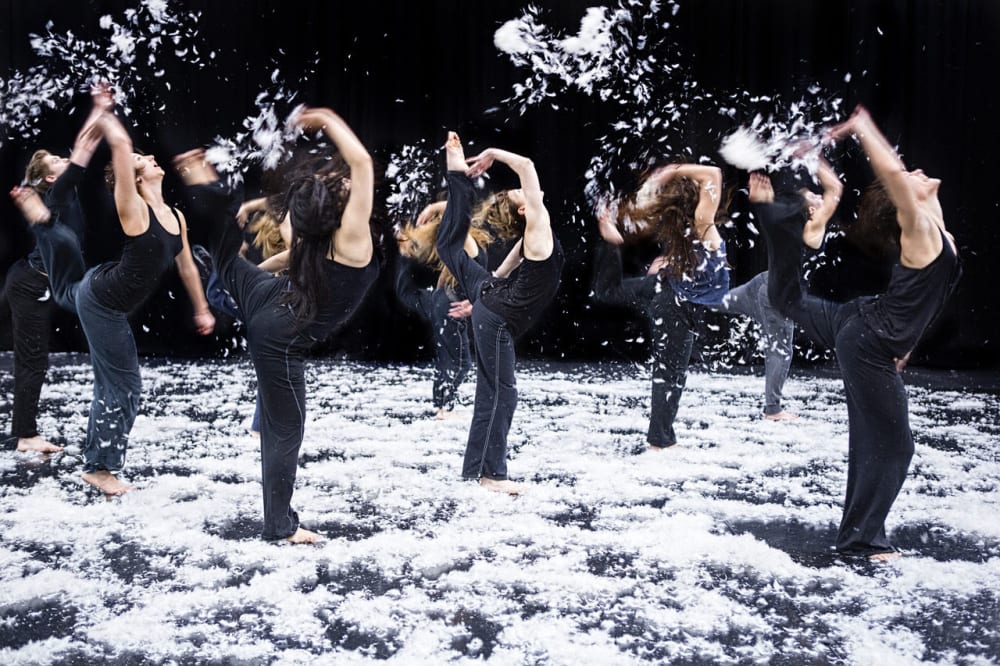 The 2019 programme of JV2—Jasmin Vardimon's company for nurturing young talent—mixes athletic physicality with the choreographer's apocalyptic, visionary brand of dance theatre. The company gives dancers the platform to develop theatrically as well as choreograph their own material for performance.
Tonight's triple bill is like watching wood on the campfire crackle and burn red hot into the night. Bodies are equally at home grounded, planted, solid underfoot as well as swaying with the lightness of angels veering between weight and suspension. Dancers hurtle out of the wings like hot flames, only to land as if soft pillows are underfoot rather than a solid wood stage.
NeverLand, by David Lloyd, opens the performance onto an intensely unsettling narrative of the suppressed and the suppressor. Two dancers repetitively bellow, "shah, shah, shah" and on beat the ensemble shake together in unison. I quake in my boots. The performers are close-up and hypnotic as they battle authority out with snakelike fingers as if performing ancient magic, taking turns to control the troupe.
The floor is laden with autumnal leaves and the fight become so brutal it's often hard to share the same physical space without occasionally averting gaze away from the performers. They've been taught that powerful skill of meeting the audience's gaze head-on. It makes Hunger Games look like playground fun.
The second piece of the evening, Laboratory by Marie Doulgeri, examines the inner workings of the performers. They appear like prisoners, heads bowed, hands behind backs, shuffling across the stage in lines, with a single cream curtain rippling in the background. At one point, a dancer strikes and delivers a narrative with real heart. Her words, like a flowing poem, tumble out rhythmically as she muses on the relationship between art and emotion. While this builds depth and is clearly designed to signpost the themes of the piece, the choreography speaks for itself.
The final piece, Jasmin Vardimon's Tomorrow, snatches movement scenes from other pieces in her repertoire. Echoes of Pina Bausch's Rite of Spring knitted into its fabric lends power to the ensemble. Dancers rise and fall moving from barrel turns into fields of billowing feathers flying around the stage, blown there by the dancers' breath.
Multiple images resonate from heads hanging low as the ensemble shuffle onto the stage to collapsing like a pack of cards one after the other to dancers being carried on shoulders like small children. The overall sense of the piece is that the dancers work closely together as a tight community.
Everything about this evening is created to showcase the extraordinary young talent as dancers blast, pummel and literally fight—with elbows in boxer stance—their way through the performance. Each piece demonstrates an insurmountable range and breath of technical and dramatic skill. Hair flowing, guns blazing, as the dancers crawl, leap, shuffle and crouch, the sheer unadulterated love of movement and energy is celebrated with overflowing joy and power.
Reviewer: Rachel Nouchi