Katya Kabanova
Leoš Janácek
WNO
Bristol Hippodrome
(2011)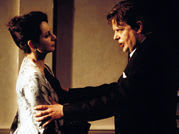 In a year in which more than a few feathers have been ruffled by over-excited re-imaginings of operas, not to mention theatre—the RSC's trashy, tasteless The Merchant of Venice and S & M Measure for Measure spring to mind—it's a relief to report that the WNO's revival of Katya Kabanova bucked the trend.
The excitement was, as it should be, in the performances, here framed by a cool aesthetic by Vicki Mortimer in a production by Katie Mitchell, mercifully free of her usual theatrical tropes of sand falling, people walking backwards.
Janacek began work on the opera, his sixth, in 1920. The setting is a provincial town on the banks of the Volga, a place that ultimately destroys Katya, a married woman whose love for a schoolteacher leads to her suicide.
The opening set, a waiting room at the boat station, gives an initial misleading impression of order and tranquillity. But we see how Katya is belittled and bullied by her mother-in-law and how her husband fails to rally to her defence.
The way is soon open for Peter Wedd as Boris, a fine and impassioned performance, to pitch the woo and find success. Both find their lives cribbed and confined and joyless so that their joy in finding each other is palpable.
Unfortunately that joy soon turns to tragedy. Amanda Roocroft as Katya is terrific, never more so than in the soliloquy in which she signals her determination to commit suicide. There is sterling support from Leah Marian-Jones as Kabanicha, the mother-in-law from hell, while Stephen Rooke as Tichon effectively communicates an impotent tendresse for his doomed wife.
There is excellent work in the pit from conductor Lothar Koenigs who channels powerful ensemble work from the orchestra. Top stuff.
Reviewer: Pete Wood