Kafka and Son

Theaturtle, Threshold, Richard Jordan Productions in association with the Pleasance
Pleasance Courtyard
–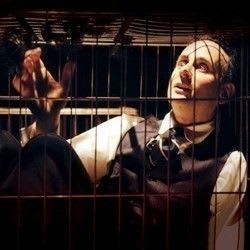 In addition to the famed books that German novelist Franz Kafka wrote, he also once penned a letter of over a hundred pages, addressed to his domineering father.
Ostensibly, this was designed to allow them to better understand one another, but in other senses the undelivered letter was a theraputic exorcism. Alon Nashman's performance as Kafka, in his adaptation of that missive, goes some ways to explore their relationship and give a sense of both men.
Nashman uses a series of voices to articulate the brusque and overbearing nature of Hermann Kafka compared to the gentler nervousness of Franz and in his forthright timidity we see a great range of talent.
There is a heavy bird motif running throughout the play, contrasting a long white quill he holds with adoration, compared to the black corvid feathers strewn across his desk, which he seems to almost literally moult as he writes his letter. Presumably, this relates to the name Kafka being phonetically similar to the Czech word for jackdaw, which was also the logo for his father's business. In as such, it hammers home a visual metaphor of him discarding the weight of his father's influence and trying to soar as his own being.
The stark staging of steel cages and a wire-strung bed helps to show the ragged nature of Kafka's mindstate, and as Nashman flits from prop to prop, dressing and redressing himself, it creates a fragmented yet flowing narrative, often shocking, and depressingly understandable.
Yet the few moments of humour, and genuine affection within the pleadings and tirades, bring out the humanity of this staggeringly well wrought production.
Reviewer: Graeme Strachan