Kafka's, A Report to the Academy
Franz Kafka
Manik Productions
Star & Shadow, Newcastle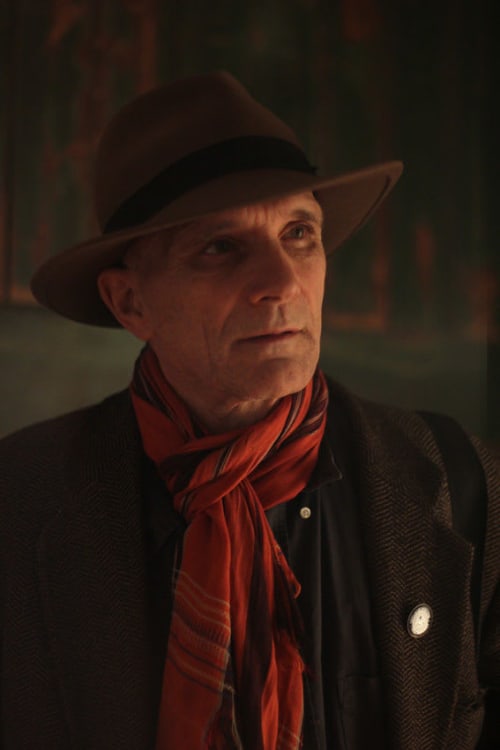 Adrin Neatrour's one-man show is a remarkable piece of theatre. He turns from an ape into a man and back again with various stages in between. He moves like an ape and (if this doesn't sound confusing) sometimes talks like an ape. When he fixes the audience with a simian stare, we are convinced we are truly watching some strange hybrid, or an evolutionary hiccup.
The setting for the story and the play is a lecture hall, as the creature delivers a address to a learned audience on how, after being captured in the jungle, he gradually changed from ape into man, slowly assimilating human behaviour and patterns. This gives Kafka an unusual stance from which to view the human condition / predicament, and along the way he offers various thoughts and observations, sometimes a mite dense, elsewhere illuminating. At times we laugh out loud, other times we shift uncomfortably in our seats.
I'd say it is based on Franz Kafka's little-known story of the same name, except the performance is more than that—Kafka's every word is delivered verbatim over 55 minutes. That's a lot of words, but the piece is always on the move as the actor drags his way round the stage, pulls human clothes on top of his fur, simulates being trapped in a small cage and via the ape's mimicking of human actions allows the audience insights into his gradual metamorphosis. Getting used to alcohol is especially difficult.
What does it all mean? Is the new creature superior or inferior to a human? Or to an ape? Is it a parable about European Jews early in the 20th century trying to assimilate into hostile societies? Or a satire on human stupidity and addiction? A send-up of Darwin's theory of evolution?
Take your pick. This is theatre to stir up the intellect, yet combined with a strong physicality and sense of the visual. Neatrour is a veteran actor, though athletic of build, an athleticism he puts to great advantage, never allowing the piece to become static or merely talking heads. His voice is human, yet somehow both curious and distanced from us, as if our own species were indeed being observed by some detached hybrid. Every movement is meticulous and telling.
At one moment Neatrour pulls off his ape's hairy hands to reveal pristine white dinner suit gloves beneath—a startling effect. The coat and trousers (and startling red braces) sit on the hirsute body with both comic and disturbing result.
Naz Kourgli directs this unique piece of theatre with an assured hand that means we are unable to look away for even a second, and Bill Ormond magics up some effective lighting from Star & Shadow's limited resources.
It plays tomorrow (Saturday) at The Miners' Institute, Newcastle, 7:30PM and elsewhere soon if there is any justice.
Reviewer: Peter Mortimer