Kafka's Dick
Alan Bennett
Derby Playhouse
(2004)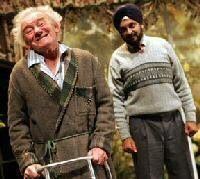 Twelve months ago Derby Playhouse brought in guest director Cal McCrystal to give his zany interpretation to Joe Orton's Loot. It was a massive success and was extremely funny from beginning to end. The theatre must have thought McCrystal would be just as triumphant with Alan Bennett's comedy about early 20th century Czech writer Franz Kafka. How wrong can you be. Kafka's Dick is as disappointing as Loot was refreshing.
McCrystal turns Bennett's comedy drama into a spoof, giving it an amateurish feel in the mistaken view that this will enhance the fun. But you need top-class actors if they're deliberately to act badly. McCrystal's cast give their all but they don't pull it off. Most of the time you feel sorry for those on stage who are forced to undertake this surreal interpretation.
The evening isn't a total waste; some of the visual comedy is very good, although somewhat repetitious. But so many of Bennett's witty lines don't reach into the auditorium - it's as if they've plummeted through an open trap door.
The play involves Kafka's imploring his friend Max Brod to burn the author's writings after his death. Max refuses and publishes all Kafka's work. The action cuts to the 1980s when the pair of them come back from the dead into the home of Sydney, a Kafka-besotted insurance agent, his frustrated wife Linda and his elderly father.
The production starts promisingly enough, with the enigmatic "Dame Sarah Brignall", who plays Linda, introducing some of the cast. There's Conor Moloney who was in the Playhouse's production of A Midsummer Night's Dream - "the only actor to have gone from Bottom to Dick in a season" - and Ajay Chhabra, cast against type as Sydney who thought he was going to Abu Dhabi, not Derby.
The first scene, when Kafka implores Max to incinerate his works, is presented as a black-and-white silent movie, with video cleverly designed by Kit Lane. The production goes downhill after that.
Choosing Moloney, who has a distinct Irish lilt, to play a Czech author seems totally out of place. It's one of the many bizarre elements that McCrystal throws at us.
The only person to come out of the evening with credit is John Delaney. He gives a more conventional performance as the father who wants to prove he has all his marbles so that he's not put into a home. Delaney regularly gets laughs and is commendable as he shuffles across the stage with a zimmer frame.
The final scene, in which all the characters meet up in heaven, is excruciatingly embarrassing. Gimmicky costumes, silly dances and badly-delivered gags abound, set to the Animal Magic theme tune. It's baffling.
I'm all for taking a new look at a playwright's work if it reveals aspects of the writer's talent which have been overlooked. But this production somehow buries Bennett's genius for storytelling deep inside a weird concept which hardly succeeds on any level. It's pretty dire stuff.
"Kafka's Dick" runs until November 27th
Reviewer: Steve Orme