Kalashnikov: In The Woods By The Lake
Fraser Grace
Pursued by a Bear Productions
Theatre 503 and touring
(2011)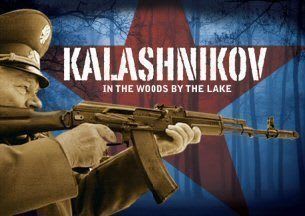 Kalashnikov, an ailing old man and decorated Soviet hero, lives in an unassuming dacha in the woods, by the lake. His "second-best" daughter fusses around him, while his mischievous granddaughter patrols the woodland, hunting imaginary enemies. Winter is beginning to thaw and Kalashnikov sits looking out into his garden, surrounded by nothing but knick-knacks and memories.
While most of his inventions lie unused, there is one that is known throughout the world, Kalashnikov's AK-47. The gun that earned him medals, armed Russian - and often enemy - soldiers and is still one of the world's most deadly weapons.
Here, through a mixture of monologue, dialogue, newsreel footage, silhouette and exterior woodland recordings, we're led through the history of Kalashnikov and the infamous rifle.
Breakfast With Mugabe scribe Fraser Grace is quick to confirm in the programme notes that Kalashnikov: In The Woods By The Lake "is not a docudrama, more a creative investigation". Racking-up emotional cues and shooting out cutting one-liners, the play unfolds in eight parts - some displayed via one of the three TV screens that form a backdrop and others more traditionally acted onstage.
Andrew Neil's Kalashnikov captures the audience from the start, addressing us directly as he dissembles his trusty rifle with ease. While he's happy to relate to us, he squabbles with long-suffering daughter Makka (Maggie O'Brien) - a widow who has moved to the dacha to take care of him - refusing even to wear his hearing aid until she announces company.
Volkov (Owen Oakeshott) introduces himself as a journalist and friend of Kalashnikov's ex-colleague. Unsure on his feet and even less so in his manner, he sets about recording an interview with Kalashnikov about his life. But behind his comically clumsy exterior lies a bubbling anger destined to find a rather melodramatic outlet.
While the script is heavy with wit - enough to frost but not overshadow the seriousness - it's Christopher Faulds' set design that makes the biggest impact. Downstage the design is traditional, with understated wooden furniture and little beyond the necessary in terms of props, but upstage, the multi-media screens allow access to a different world.
From the dark woods of Russian fairytale to the magical snowfall, the screens signal change in atmosphere as quickly as David Rafique's bold, multicoloured lighting design. Green represents the woods, blue the lake, while red fills the stage with a devilish unease as Volkov dramatically snaps, damning Kalashnikov's immortal soul.
Via the screens we're also shown still photography as Kalashnikov speaks of his mother, footage of weapons factories and tanks rolling into war. Volkov's video camera adds a filmic quality that allows us further access to Kalashnikov's emotions, as close-ups of the interview are projected on the back screen. With one minor exception, all of granddaughter Elena's scenes are conducted on the same screen via wood-cam, as she peers directly into the lens, excitedly describing her grandfather's invention as though it's the coolest new fad for teens.
This she does in an English accent, which a decidedly urban twang. Thankfully none of the actors attempt a Russian accent here. Instead Neil sticks with his native Scots, O'Brien her RADA-style enunciation and Oakeshott lends more Queens English to the mix. It's a testament to the acting all round that we barely notice the difference.
Towards the end of the play, tensions clear up surprisingly quickly inside the dacha, and attention turns to the potential danger outdoors, where the issues raised are shifted from an argument between the two men to the reality of the gun's power in the outside world. A fittingly open ending to an entertaining and thought-provoking production.
"Kalashnikov: In The Woods By The Lake" is touring to Cambridge, Brighton, Canterbury and Colchester until 12 November 2011
Reviewer: Kat Halstead