Kanjoos
Molière adapted by Hardeep Singh Kohli and Jatinder Verma
Tara Arts
Tara Arts Centre
–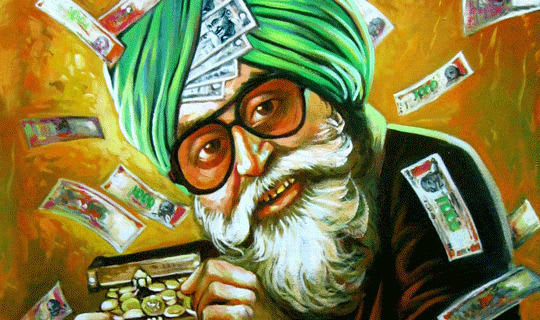 This is an adaptation of Molière's L'Avare. It is transposed to modern Mumbai and given Tara's special twist in a production that is enlivened by the music of Sohini Alam and Hasan Mohyeddin.
The names may be changed but the story stays the same in this tale of a man, now called Harjinder instead of Harpagon, who loves his money more than anything else. He wants his daughter Dimple (Molière's Elise) to marry a rich older man but she is in love with handsome Valmiki (Valère) who is currently employed as Harjinder's butler. His son Kishore (Cléante) is equally horrified to discover that his father plans to marry Mariam (Mariane) the girl whom he's in love with.
Though it is a satire on greed and the conflicts between filial duty and what children themselves want, it is a light-hearted piece which manages a happy ending. Although Harjinder is a sometime-moneylender, asking exorbitant interest rates, this kanjoos is rather an old-fashioned figure. Greed is always with us but there is no attempt to turn this miser into a direct satire on avaricious bankers.
Clarinet-playing Sam Korbacheh, dressed in a flounced shirt and tunic that remind us of the play's origin in Louis XIV's France, is full of romantic charm as Valmiki; it is easy to see why Krupa Pattani's lively Dimple would fall for him. Devan Modha is an equally spirited and nimble-footed Kishore. Swifty wrapping an apron on and off, Modha also doubles as the household's cook while Pattani ties on an apron and pair of bouncing boobs to hilariously double as another family servant.
Caroline Kilpatrick plays matchmaker Frosine, a satire on the Westerner who has become almost more Indian than the locals, and doubles as Don Aslam, the husband lined up for Dimple who brings resolution to the story when he turns out to be the father of both Mehrish Yasin's Mariam and Valmiki. The kanjoos Harjinder is played by Antony Bunsee with motormouth energy and big-eyed with greed. He sometimes goes too fast for comprehension but if it is over the top it is in connivance with the audience. This is not a naturalistic play but shows its roots in the commedia tradition as the Pantalone figure is eventually outwitted.
Musical director Danyal Dhondy on keyboard, Hasan Mohyeddin on percussion and singer Sohini Alam add another layer of enjoyment and spark off some natty Bollywood moves from the actors and sometimes add an accent to the dialogue with a blow upon a wooden block or other punctuation.
Hardeep Singh Kohli has provided a bright, jokily-rhymed translation that has a dash of pantomime frivolity with some extra humour for Hindi-speaking members of the audience, though the script works in translation wherever needed. It is a relaxed and easy-going evening that makes no big demands upon the audience, not as impressive as some of director Jatinder Verma's previous cross-cultural classical recreations but that is in the nature of the play. It is there to be enjoyed.
If you want to catch up with Molière's original text, the Tour de Force Theatre is performing L'Avare in French at the Cockpit 10-12 October.
Reviewer: Howard Loxton