Karagula
Philip Ridley
PIGDOG and DEM Productions in association with Soho Theatre
The Styx, Tottenham Hale
–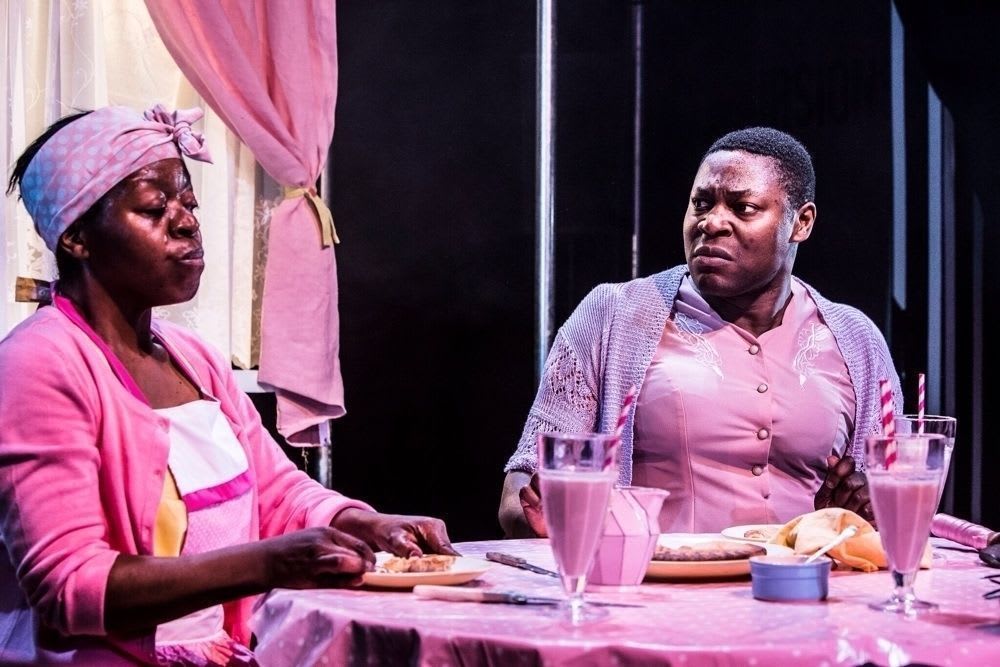 The key satiric target of Philip Ridley's epic play Karagula is the United States and the way it treats those who dissent.
It opens in Mareka, a place of garish pink suits and people sipping pink milkshakes. This is a 1950s version of America that claims to be happy and safe. Neighbours join each other for slices of apple pie in snug kitchens. Their lives are given order and meaning by religion. Outside there are high school cheerleaders celebrating success.
However, alongside these cosy images are some deadly rituals. Each year, a prom King and Queen are assassinated and a scapegoat for the killings is arranged for community lynching. Dissent is harshly removed with some victims being subjected to the ordeal of having their hand held in the Ziddigga jar containing a deadly insect.
Two of its young inhabitants, Dean (Theo Solomon) and Libby (Emily Forbes), fall in love with each other and fall out of favour with this repressive society. Forced out of Marecka, they become a catalyst for a growing uprising of religious groups.
Rather than allow the rebellion to succeed, a member of the ruling family causes an explosion that destroys Mereka.
There emerges from the ruins a new futuristic society with a different form of religious intolerance. The society of Colon solves what it regards as the problem of religion by ruthlessly crushing all religions and their supporters. In the process, it also suppresses among its own inhabitants qualities such as curiosity and humour.
This strict society in turn provokes an underground resistance movement.
The story is performed by a fine cast in short quick scenes, not all of which follow in chronological order. It is given a fluent, sharp production by director Max Barton, with a design by Shawn Soh that reminds us of films from David Lynch to Star Wars.
Philip Ridley's play explores the terrible logic of the United States and the United Kingdom's foreign policy that has generated nationalist movements abroad and dissidents at home who express their discontent in religious terms. One of the consequences of the foreign policy is a greater intolerance of religious groups in particular Islam.
Karagula is a very bleak and at times violent version of the world we live in, but it is also a plea for greater tolerance.
Reviewer: Keith Mckenna