Katya Kabanova
Leos Janacek
Opera North
The Lowry (Lyric Theatre)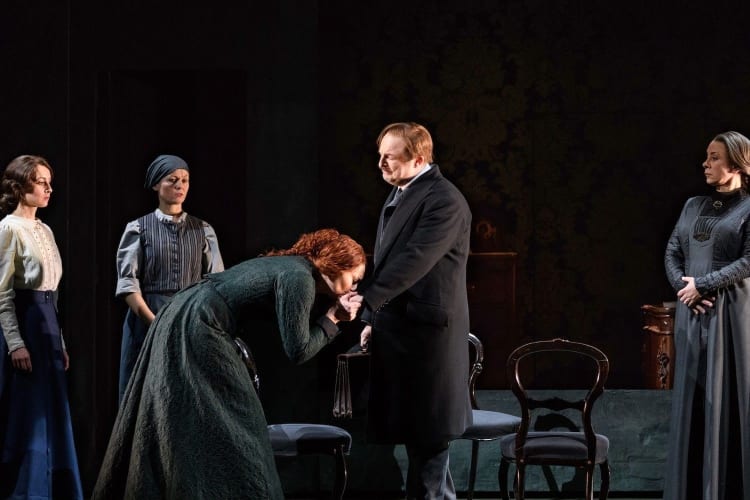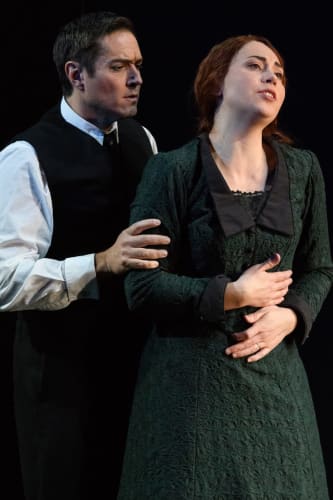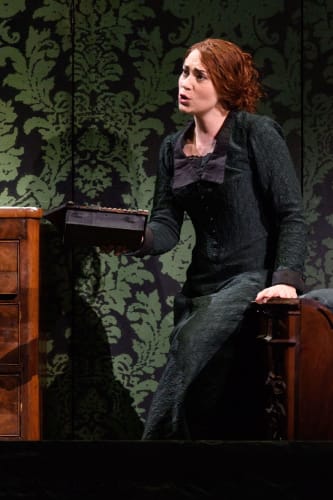 Idle bastard!
It's hard not to love a libretto in which a bullying uncle, Dikoy, so roundly abuses his financially dependent nephew, Boris.
Russophile Moravian composer Leos Janacek crafted his opera Katya Kabanova from Ostrovsky's play The Storms. Eschewing an offer of help from the Czech translator of Ostrovsky, Janacek produced both words and music to telling effect. His desire to capture the tones and rhythms of natural speech, combined with remarkably inventive orchestrations (influenced by Puccini and Charpentier, among others), result in a piece that challenges and captivates.
All the more remarkable, perhaps, is the fact that not only was Janacek sixty-five years old when he wrote it, he would go on to write three more operas (all regular features in the repertoire), the last, From the House of the Dead, completed in the year of the composer's own demise, at the age of seventy-two.
But Katya, mother's decided.
Katya is married to Tichon, a conventional man with a mercilessly controlling mother, Kabanicha. Not only does Kabanicha hold sway over her son and his wife, she also (in this production, at least) has something of a Venus in Furs arrangement with the aforementioned bullying uncle, Dikoy ("speak sternly to me," "treat me harshly," he pleads with her.)
Katya is a delicate, sensitive, romantic spirit—as Janacek describes her: "a breeze would carry her away—let alone the storm that gathers over her." The storm will be both meteorological and emotional, brought on by her inability to suppress the cyclone of remorse she feels for her infidelity (with Dikoy's nephew, Boris).
I have no will left to resist you.
As might be predicted, infidelity leads to tragedy and, as so often in literature, the woman pays the heaviest price. That said, there is both psychological insight and unflinching cultural criticism in how Janacek (following Ostrovsky) points the finger of blame at a hypocritical, moralising community, where appearances matter more than true human emotion. A wife is expected to be seen lying weeping for hours on her doorstep whenever a husband departs on a business trip. It's what people expect to see, Kabanicha tells her daughter-in-law. Katya is repressed, unfulfilled, tormented by erotic dreams of an imaginary illicit relationship.
The self-assured Varvara, Katya's not quite sister-in-law (she's been fostered by Kabanicha), shows the way—if you're going to misbehave, do it unrepentantly. Sung and played with mischievous vivacity by Katie Bray, she refuses the burden of shame and self-denial offered by village life.
I have my sins, too.
Varvara encourages and facilitates Katya's infidelity, giving her the key to the door to the garden. Varvara has her own lover, the teacher, Kudryash (sung with presence and clarity by Alexander Sprague).
Hildegard Bechtler's impressively bleak and minimalist set and her dark, sparing costumes are perfectly complemented by Peter Mumford's beautifully austere lighting design to construct a sense of a cloying, close-minded, traditional community whose rigid practices and downright superstitions strangle the more natural souls of their fellow creatures.
As Dikoy, Stephen Richardson booms and blusters to grand effect, whilst Heather Shipp's Kabanicha sings and moves as though her entire spine is a single rod of iron. Andrew Kennedy as the downtrodden son who loves his wife, despite her betrayal, adds an element of pathos to what might otherwise be an unsympathetic role—good work. Harold Meers's Boris is brought to life with a sensitive, thoughtful performance.
Seeing a performance of Puccini's Madame Buttefly is said to have prompted Janacek to create Katya as his own delicate winged creature who longs to fly. Stephanie Corley's Katya gives us the confused, tortured, passionate, needy yet beautiful spirit the composer meant her to be. It's a performance to be proud of.
Am I awake or dreaming? Oh, what madness.
Tim Albery directs with great respect for the natural speech and psychological complexity Janacek sought to bring to the art form. The 'concision' of Janacek's storytelling puts demands on all the singers to make us believe in their relationships, and this production makes a very good fist of that task.
Thanks to Sian Edwards, Janacek's innovative score draws delight from ON's always excellent orchestra. Once or twice, the instruments outmuscle the voices, but it is such marvellous music, no one can blame them.
Reviewer: Martin Thomasson