Keeler
Gill Adams
Richmond Theatre and touring
(2011)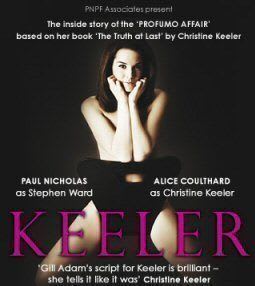 Anybody who was around in 1963 will still remember the great public scandal which brought down Harold Macmillan and the Conservative government.
Lewis Morley's iconic photograph of Christine Keeler sitting astride a chair in the nude, facing the camera, her nudity hidden by the back of the chair, is one of the most repeated images of the 20th century.
At the height of the Cold War society osteopath Stephen Ward introduced model Christine Keeler to John Profumo, Secretary of State for War, at a house party thrown by Lord Astor at Clivedon. She was having an affair with Ivegeny Ivanov, naval attaché and spy at the Soviet Embassy at the time.
Profumo stated in the House of Commons there had been no impropriety whatever and threatened to sue anybody who said there had been. Later he admitted he had lied. The affair had only lasted a couple of weeks. Britain's national security had not been compromised. No secrets had passed between them.
There's been a film, Scandal, with Joanne Whalley as Keeler, John Hurt as Ward and Ian McKellen as Profumo. There has been a play, Hugh Whitemore's A Letter of Resignation with Edward Fox as Macmillan. There's been a musical, A Model Girl, and there have been loads of songs based on the scandal.
Gill Adams's play is based on Christine Keeler's autobiography, The Truth at Last, and comes with her approval. The play is badly constructed. The dialogue is clunky and has no dramatic punch. The acting is wooden. The production is pedestrian and the set is drab. The showgirl routines are tacky; they are meant to be, of course; but they add absolutely nothing.
The subject matter cries out for wit and satire. There is none. Alice Coulthard is cast as Christine. The play is called Keeler for box office reasons. But the leading role is really the osteopath. Paul Nicholas (who is also the producer and the director and wearing a terrible wig) is so bland he might as well not be there.
Touring to Bradford, Swansea, York, Bromley, Malvern, Brighton, Wolverhampton
Reviewer: Robert Tanitch