Keep Dancing
Director and choreographer, Emma Rogers
Palace Theatre, Manchester
–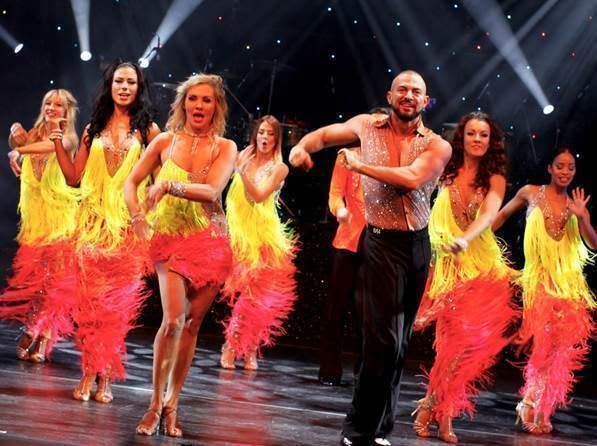 "Keep Dancing!" as Tess and Claudia exhort us every Saturday evening. The indefatigable Robin Windsor (whose energetic contributions are a regular feature of Zoe Ball's Strictly Take 2 programme) is determinedly carrying that message to the masses with this Strictly spin-off show.
A fair number of tonight's crowd have clearly turned up to cheer on the guest star, Olympic silver medallist (and 2012 Strictly Come Dancing champion) Louis Smith. Young Smith looks a little nervous and ever so slightly hesitant, but the crowd love him and he doesn't let himself or his partner, the redoubtable Anya Garnis, down.
Ms Garnis works hard for her money, switching from nurturing a gifted amateur (Smith) to going toe-to-toe with the effervescent Mr Windsor (why has no entrepreneur suggested hooking him up to the National Grid?).
Borrowing from the Strictly format, the dances are performed around, in front of and occasionally alongside live vocals. A recorded soundtrack is enhanced by "live" percussionists (Joëlle Barker and Adam Green) who do a fine job but, just occasionally, could be better amplified. There are none of the other famous Strictly faces to be seen (just in case you were wondering)—the other dancers on stage are capable professionals, not star names.
Up to the break, the production has the feel of a cruise ship cabaret being performed while the boat is still docked. For me, the highlight is Lisa-Marie Holmes's version of "Why Don't You do Right?" (and, if it strikes you as strange that a vocal performance should be the highlight of a dance show, well, there you go).
Immediately after the interval, we might have walked into a different show: one featuring powerful latin rhythms, moody lighting, slick routines, sultry dancers. The choreography is much smarter and the latin rhythms clearly suit the dancers down to the ground—Yanet Fuentes, in particular, grabs the opportunity to shine. For a while, the numbers have more edge, the routines more visual power. It doesn't last, but while it does, it's better than nice.
To be fair, the crowd have come for Strictly style and the closing routines—disco, Charleston, and a Gloria Estefan medley—go down well.
The paying public seem happy enough at the end. A cosy show with a tantalising hint of something more flavoursome squeezed in the middle.
Reviewer: Martin Thomasson