Keep on Walking Federico
Mark Lockyer
Actors Touring Company
Spielman Theatre, Tobacco Factory Theatres, Bristol
–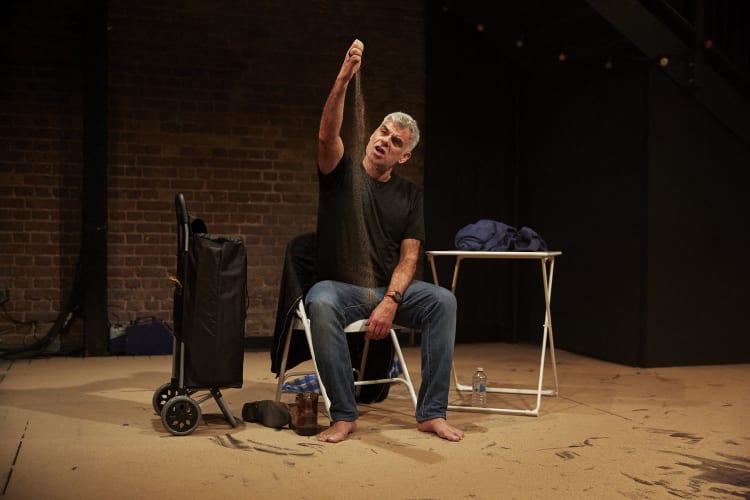 Mark Lockyer's 2017 Living With The Lights On laid bare this RSC actor's very public mental breakdown and subsequent attempts at recovery. In Keep On Walking Federico, we join Lockyer further down the long road to recovery, trying to make sense of his personal family history.
While still in therapy recovering from his breakdown, Lockyer receives a surprise letter from Spain and, with his therapist's encouragement, moves out there to learn the source of the mystery.
Thoroughly engaging, with no artifice, Lockyer shares some of the skeletons in the closet of his own family and, after moving to Spain, the many secrets of his new acquaintances in the small village in which he lived.
Despite an almost bare set and few props, Lockyer is thoroughly compelling. His physical movements and vocal skills as he flicks from one character to another are totally absorbing. At one moment his hips sway as he becomes the heavily accented, broken-hearted Flamenco dancer Ramona; the next moment he is the Dutch expat in the bar, in Spain to look after his aged parents. Lockyer can seamlessly start a sentence as himself and finish as his aged mother.
It is plain that Lockyer's fragile return to health is a result of tiny steps and many trips along the way. His journey to Spain has unexpected consequences. The vivid colours of the sunflowers, blue gingham and terracotta are refreshingly electrifying for him, but it soon becomes apparent that you can never escape your past.
This short 80-minute production switches abruptly between eras, characters and locations. It is a compliment to the dexterity of the performer but it can be bewildering to the viewer. There are many ideas scattered throughout the evening but not enough is done to join the dots to make the evening a complete success and it takes a little too long for the evening to get fully underway.
Despite these shortfalls, Lockyer's thoroughly likeable and openly honest approach is engaging and with it an important message to all of us. "Life is not easy, you have to practise" is as relevant to those who have experienced breakdown as it is to those that haven't.
Reviewer: Joan Phillips