Keep Calm and Carry On
Helen Russell
The Customs House, South Shields
(2011)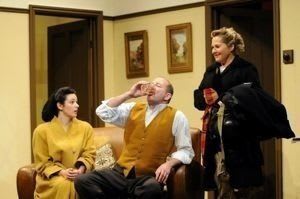 In Keep Calm and Carry On, Helen Russell has drawn upon her experience as an actress, comedienne, singer and playwright to create a poignant, funny and heartwarming play. Although it is not strictly autobiographical, it is certainly influenced by Russell's own time as an ENSA performer during World War Two and, as she says in the programme notes, "it tells of what could and did happen in those days and people's reaction to what was considered scandalous."
The piece is set in London at the height of the Blitz, where nineteen-year-old Mary Robson (Rachel Teate) dreams of an escape—entertaining the troops on stage. However, her parents Ellie (Bidi Iredale) and Joe (Stewart Howson) don't hold the same aspirations for her. The clash between the impetuousness of youth and the cautious protectiveness of age is deftly explored in the writing and brought to life with equal panache by the cast.
Of course, it isn't giving anything away to reveal that the headstrong Mary gets her own way in the end. In fact it is the journey that young Mary takes from girl to woman and her subsequent 'coming of age' which forms the bedrock of the piece.
The play is authentically evocative, with no detail being overlooked, and the entire technical crew are worthy of special praise. The high-pitched wail of the air raid siren, the Bakelite radio on a table in the front room, the costumes, hairstyles, music and lighting all contribute to the overall tone to great effect. However, the battles and casualties of World War Two are merely a backdrop to the battles that are faced by Mary and her family as they struggle to maintain a sense of normality in abnormal times.
Russell's script is a gem. Having spent most of the first act convincing the audience that the piece is a gently humorous nostalgic wartime romp, she then proceeds to drop a bombshell with as much precision as the Luftwaffe. Indeed, this play is, by no means, a sugar-coated depiction of wartime life but more of a hard-boiled examination of love, loss and the power of the human spirit against unbelievable odds. Her characters are instantly recognisable, three-dimensional and easy to relate with.
Director Jackie Fielding has assembled a first-rate cast, each of them seeming to understand their characters inside out. Although much of the action surrounds the tensions between Mary and her parents, the relationships between Mary and the two men who will have a significant impact on her life, Colin (James Hedley) and Len (Lawrence Stubbings), are also explored with sensitivity and skill. Finally, add to the mix a show-stopping, scene-stealing performance by Rosalind Bailey (as Mary's Gran) and this war-time comedy drama is nothing less than victorious!
Runs until Saturday 12 November 2011
Reviewer: Steve Burbridge