Keep Smiling Through
Lisa Evans
Theatre by the Lake, Keswick
(2011)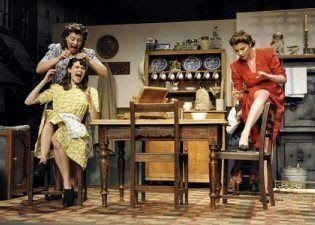 Keep Smiling Through, Lisa Evans's new play for Theatre by the Lake, takes us back to wartime Keswick, when evacuees from the big cities were staying in the homes of strangers, the men were away fighting and the women were at home contributing in various ways to the war effort.
Maggie is at home looking after her gran and her young evacuee lodger from Newcastle, Hilda, while her husband Rob is away fighting and she is an enthusiastic volunteer down at the church hall, while her best friend Peg, newly-pregnant and also without her husband due to the war, forces her to go out dancing and enjoy herself. Hilda's mother writes to Maggie, who believes she is unable to have children, to say she doesn't want her daughter back and offers to let her adopt her permanently, but Rob is rather uncomfortable with Maggie's sudden independence in his absence.
Interspersed with the scenes, which mostly take place in the church hall and in Maggie's kitchen, are songs from the period, either sung as part of the scenes or sung by actor musicians to link scenes together. However the whole thing remains rather disjointed with some amusing banter between the characters that doesn't go anywhere and some promising dramatic scenes that start to build up to something interesting but then fizzle away disappointingly. Just before the interval, there is the first sign of true conflict in a clash between Maggie and Rob that brings together many of the most interesting themes of the play, but nothing in this scene is followed up at all in act two.
Heather Saunders is an amiable and often a childishly-naive Maggie, opposite a very strong performance from Polly Lister as Peg. Ben Ingles is Scottish doctor Alec, who seems to have a way of reassuring everyone but has a dark secret of his own and gets a little too close to Maggie. There is another great performance from Olivia Mace as upper class Land Girl Jean, whom Matt Addis's Perce—who would today be categorised as "special needs"—has a bit of a "thing" for. Completing the cast are Fiona Drummond as Hilda, Kate Layden as a bit of a swinging gran who gets the chance for a comic turn at the end and Heather Phoenix as German refugee and rehearsal pianist Leonore.
There are lots of interesting issues raised, some scenes are very funny, others explore themes through conflict, but the whole thing is just too disjointed to come together as a whole and nothing is explored as deeply as it could be. As it stands, it is quite entertaining and diverting, but there is always the thought that it could be so much more.
In rep until 11th November 2011
Reviewer: David Chadderton