Keepy Uppy
Evan Placey
Tutti Frutti
York Theatre Royal
–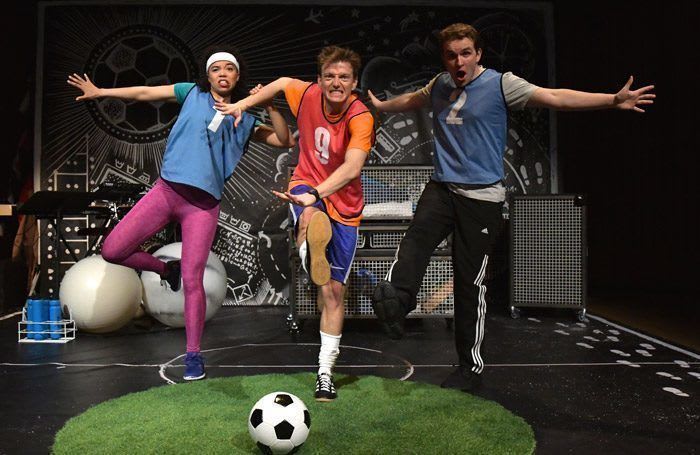 To celebrate the World Cup and the UK's enduring love affair with football, Leeds-based theatre company Tutti Frutti has chosen to stage a play all about the beautiful game. Mercifully for a non-football fan such as myself, you don't need to know much about the sport in order to enjoy Keep Uppy, and playwright Evan Lacey does a swell job of showing how a love of the game can take hold from a young age.
10-year-old Joey (Danny Childs) is obsessed with football, a passion he shares with his doting mother (Eden Dominique). Like many youngsters, he dreams of emulating his sporting heroes (Jamie Vardy, John Stones and Lionel Messi, to name but a few) and scoring the winning goal for his team.
When match day finally arrives, Joey is giddy with excitement. However, before he can show off his skills on the pitch, he must contend with a litany of obstacles, including a last-minute dash to the pharmacist for an inhaler, shrunken football kits and missing half-time oranges.
Set over the course of a single hectic morning, Keepy Uppy has a pleasing storybook simplicity, and its action is propelled forward by Lacey's rhyming dialogue and Dom Sales's percussive score, which is confidently performed by Vittorio Angelone.
The most magical aspect of the production is the ways in which it depicts Joey's love of football. In one memorable scene, Joey is unable to resist turning the breakfast table into a football pitch, with boiled eggs and soldiers doubling as goalies and outfielders. It's in moments such as this that one can most appreciate Wendy Harris's sure-handed direction and Kate Bunce's inventive set design.
The mother and son duo are wonderfully played by Danny Childs and Eden Dominique, who invest their characters with considerable warmth and charm. Angelone provides solid support in various supporting roles, and the three performers cope brilliantly with Joel Daniels's kinetic movement direction, which sees them skipping, leaping and cartwheeling with abandon.
It's a big thing asking children between three and seven to sit attentively for an hour. The youngsters in the audience were enchanted by Keepy Uppy, and so was I. Following the success of Underneath a Magical Moon and Ugly Duckling, I'm pleased to say that Tutti Frutti has scored again.
Reviewer: James Ballands