Kefar Nahum
Concept by Nicole Mossoux
Compagnie Mossoux Bonté
Barbican Pit
(2010)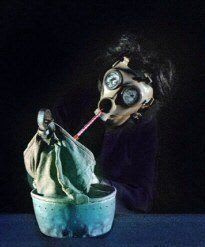 Kefar Nahum means the village of Nahum, what the English Bible calls Capernaum, where it locates the home of Jesus's first disciples and which became the centre of his ministry.
How does the title connect with this mixture of puppetry and mime by this Belgian company created by the performer/manipulator Nicole Mossoux and director Patrick Bonté? I don't know. I found neither a Christian message nor anything related to the Arab-Israeli confrontation.
But let's look at what it presents us with - and that's some highly skilled and carefully controlled puppetry that creates a succession of intriguing shapes to a live synthesiser score (composed and played by Thomas Turine) that begins with a low drone that grows to a growl like a strengthening wind. Is this truly The Beginning: primal nothingness?
First there is a white cloud that changes shape before becoming a drape around a body that then falls away and is bundled together by a pair of hands. This is replaced by what looked to me like pair of headless hominids; there was a furry spidery form, a figure like a Kabuki actor seeming to sail across the tabletop stage in a boat-like cooking pot, spikes sprout like porcupine quills from the table's sides. Some of the shapes we see being formed are very small and often they are dimly lit or so contrasted with the blackness around them that they cannot be distinguished clearly - even in a theatre the size of the Pit I found myself wishing I had opera glasses. A furry spider appears and there's a bulldog like thing that seemed to shit spaghetti, then turned into a fowl that laid an egg. A pair of hornets buzzes into sight and then start to mate. Was that a rolled-up corset that became a turtle, or perhaps a sting ray? Images suggest rather than reproduce existing creatures and they are never fully formed. Hands holding arcs of springy metal became faces or skulls suspending arms, suggesting something human-like. Fingers walk with some sort of tiny body growing above them.
Sometimes one creation chases its predecessor off the table, sometimes they just fall over the edge. In every case they seem to be rejected by their maker. Are we looking at an attack on Darwinian evolution theory and watching the dissatisfied Creator simply scrapping everything She makes? She is not satisfied with her own shape either, for it is continually remorphing and at one point retches up another 'poor forked animal' that seems to have grown inside her.
At last this nimble-fingered deity seems to despair of is botched handiwork and be about to cast itself into the same abyss to join all it botched creations. It is a gloomy prospect that left the audience silent for a long blacked-out pause before they decided the show was over and began to applaud.
There is one sequence where a watering can waters a field of grass which I suppose represent the creation of vegetation but, along with one or to other images may have been intended as a touch of humour but the audience was not inclined to laughter, unless I missed it (the darkness and the soundtrack have a rather soporific effect and there were some heavy-lidded moments) and I think the makers want us to take this cocked-up creation very seriously.
Mossoux is clearly a skilled performer and the company, founded 25 years ago, has a high reputation and has been invited several times to the London International Mime festival (of which their performances forms part as well as being part of the Barbican's bite10) but this did seem to be stretching just one idea over its whole 50 minutes. Making something from appear from nothing is the essence of theatre magic but on this first occasion of seeing their work they failed to either move or astonish me. Nevertheless it did make me want to see more of their work; perhaps this was just the wrong piece for me.
In the Pit until 23rd January 2010
Reviewer: Howard Loxton