Kenny Morgan
Mike Poulton
Arcola Theatre (Studio 1)
–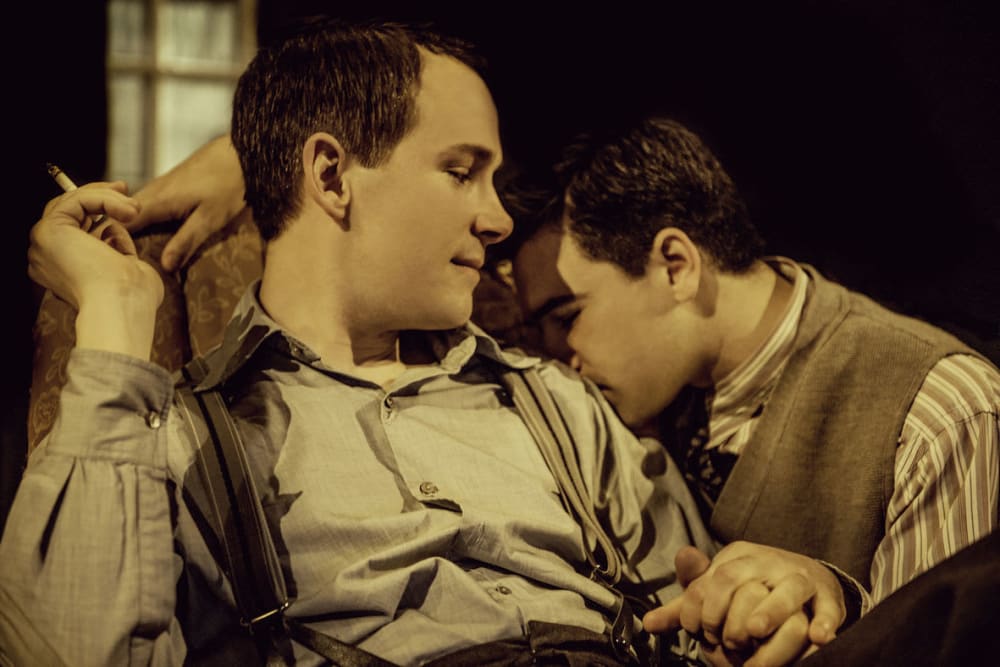 It is 1949 and in a grotty room in Camden Town a young man has tried to kill himself. Another tenant smells gas and he and the landlady find the man on the floor in front of the gas fire but still breathing.
He's alive because the gas ran out for want of a shilling in the meter. He split from an older, long-term lover a year ago to move in with a younger man he is in love with but it isn't working.
Make the would-be suicide a woman and this could be Terence Rattigan's The Deep Blue Sea (about to get a National Theatre revival). Not surprising, for both are based on the same core material: the suicide of Rattigan's former film-actor lover. The ban on depicting then-illegal homosexuality on stage meant Rattigan had to change gender when writing his play, which premièred in 1952. Michael Poulton draws on the real-life events for a fictional retelling that may well be very close to the truth.
There are echoes of Rattigan's play, a "deep blue sea" quote and three-act format and careful structure (though presented with only one interval). Mrs Simpson, the landlady, at first seems a typical West End stereotype character of the period but, though there are details that don't seem entirely accurate, Poulton has very accurately caught the way in which queer life was confined and conducted in some sections of society.
This was a world where you might pass off the young man that you lived with as being your golf caddy, where even after living ten years together there was a pretence that you lived separately and made separate hotel room bookings. Fear of the law, of scandal and family finding out not only kept men in the closet but affected every part of their relationships.
Kenneth Morgan played Kenneth Lake in Anthony Asquith's film of Rattigan's French Without Tears. He was given a Film Industry "most promising actor" award in 1940 but, courted and spoiled by Rattigan, he gave his career little attention.
Paul Keating's Kenny captures precisely his lack of self-esteem, part product of living unacknowledged, and the desperation in his refusal to abandon his own love for Alec, despite it not being reciprocated. It is a histrionic performance but rightly; this is a man in the middle of breakdown, however hard he tries to present a normal face to his neighbours.
Simon Dutton is an elegant Rattigan, called because he was the first name found in Morgan's address book; a man who is loving and generous but blind to some things. Constrained by convention, he is so used to living by its rules that he never understands the pressures they put on his lover, why Kenny couldn't go on with it.
But, beneath the sophistication, the control, Poulton gives us a glimpse of Rattigan's own pain and Dutton subtly shows this, his loss made worse because Kenny's love is now for a boy he himself had picked up and found to be worthless.
Is that judgement of Alec Lennox a harsh one? Pierro Niel-Mee gives the self-centred bisexual a youthful vitality but he too seems seriously damaged. What has made him such a selfish exploiter of others? Why is he such a liar—concocting an unlikely story as to why he's not joining Birmingham Rep. We get no back history, only his drinking, but perhaps he is simply using people whom he feels have used him.
Mr Ritter, the refugee Jewish doctor, now crossed off the register (one can guess why) who revives Kenny, and Dafydd Lloyd, the Admiralty clerk who first smells gas, are beautifully played by George Irving and Matthew Bulgo. They feel complete people even without any more background and, as the play progresses, the writing also allows Marlene Sidaway's Mrs Simpson to emerge as a character more real and caring. There is little though that Lowenna Melrose can do with Norma Hastings, an actress Alec has picked up in Birmingham, an underwritten cypher there just for plot.
Lucy Bailey has drawn strong performances from her cast and her production suggests a sense of entrapment and of living behind a façade. Robert Innes Hopkins provides setting that is suitably squalid, walls removed to leave significant stretches of gas piping, a filthy window, worn lino and a ceiling in a state of dire dilapidation.
It is as much a symbol of the state Kenny's life is in as location; you could see this play as symbolic of the strictures of gay life in the 1940s. In fact, it is a painfully real picture, movingly presented.
Reviewer: Howard Loxton