Kes
A dance theatre adaptation of Barry Hines's Kes by Jonathan Watkins
Sheffield Theatres
Crucible Theatre, Sheffield
–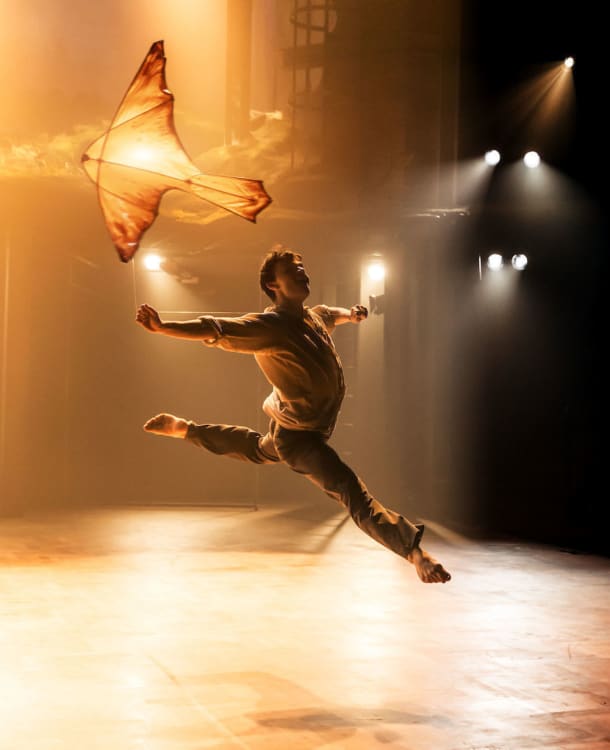 In order to appreciate this dance-theatre version of Kes, it is important to put aside any preconceptions or prejudices that may arise from familiarity with Barry Hines's iconic novel, A Kestrel for a Knave, or the equally iconic Ken Loach film Kes with a young David Bradley as the unloved, mistreated outsider, Billy Casper.
It is simply thrilling to watch a kestrel (represented by a puppet) circling and diving on the large Crucible stage, and to identify with the freedom and sense of release from the miseries of his everyday life that this brings to young Billy, played by Chester Hayes.
The performance is described by director / choreographer / adapter Jonathan Watkins as "a hybrid form of dance and theatre", which depends not on dialogue in the Barnsley vernacular, realistic characterisation or a setting in lovely moorland on the outskirts of the city, but on the translation of the story into a medium that is non-literal. "As soon as someone dances, that's not literal: that's suggestive and metaphorical", says Watkins.
In the opening section of the action, we meet Billy and his family in their overcrowded pit village home, where Billy shares a bed with his brutal older brother Jud (Tom Jackson Greaves), and is ignored and rejected by his flighty Mother, danced with elegance and assurance by Laura Caldow, who is far too young and beautiful for the part, particularly in a blonde wig which makes her look more like Marilyn Monroe than the down-trodden, estranged wife of a Yorkshire miner.
The interior sets are wheeled on in large metal frames, sometime accommodating a real piece of furniture, like the bed, and sometimes representing an object, like the invisible blackboard in the school scenes. This initially seems quite a clunky device, but improves with familiarity, particularly when the performers push the sets in and out in the mood of the scenes they accompany.
Billy's harsh life is no better at school, where he is a reviled outsider, bullied by teachers and class mates alike.
Dom Azapski gives an angular performance as the relatively sympathetic English teacher, Mr Farthing, who becomes fascinated by the transformation in Billy when he describes how he has trained the kestrel. Head teacher, Mr Gryce (Anton Skrzypiciel) and PE Teacher, Mr Sugden (Phil Snowden) express the quirks of these two characters through suitably comic movement.
Memorable set pieces, like the queue outside the head teacher's study when the young messenger boy is caned alongside regular offenders and the renowned football match in which Mr Sugden displays his vanity, thugishness and incompetence, are as amusing in this medium as in the earlier realistic forms.
In addition to the professional members of the cast, two teams of young dancers are drawn from throughout the city region. I saw the Red Team, who are outstanding as bolshie, disinterested schoolchildren, who often express boredom in rhythmic sequences on or around chairs. They are skilled and dynamic in the football game, and very amusing in an ironic rendition of "All Things Bright and Beautiful" in the school hall while Billy is flying his kestrel on the hills above the town.
It is interesting that the non-verbal convention of traditional ballet performances is broken to good effect on three occasions: when laughter breaks out at a drunken evening in the local Working Men's Club, for the hymn singing mentioned above and for a recorded commentary on the crucial horse race which Billy has failed to put his brother's money on.
Alex Baranowski's score provides a lyrical background to the kestrel sequences, and considerable variety in the more percussive action sequences.
But the action hinges on Billy's relationship with the kestrel. Laura Careless operates a hand puppet with flapping winds and pecking beak in the early training sequences, and seems to fly with the bird when it takes off. This is because Careless runs at speed, circles and dives with superb artistry. She continues to be dancer while operating the puppet so that her joyful movement reflects the joy of the kestrel in flight.
A similar relationship emerges when puppeteer Barnaby Meredith operates a puppet on the end of a wire, which can swish by, fly high and circle at speed. The kestrel thus becomes a partner Billy can dance with in sequences that briefly subsume the harshness of his young life in moments of freedom and escape. It is thrilling to watch and very moving.
In a final powerful scene, Billy throws himself in anger on his cruel, insensitive brother (a strong performance from Jackson Greaves) and attacks his mother for her ineffectuality and indifference. There is a chilling ending to the performance when Billy is again required to share a bed with the brother who has hurt him so deeply.
Kes is performed as part of the Yorkshire Festival 2014.
Reviewer: Velda Harris