Kes
Adapted from Barry Hines's A Kestrel for a Knave by Lawrence Till
Coliseum Theatre, Oldham
(2010)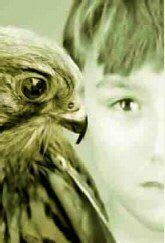 Artistic director Kevin Shaw kicks off Oldham Coliseum's new season with classic coming-of-age tale Kes, based on the 1968 novel by Barry Hines and most well-known through the 1969 Ken Loach film.
Billy Caspar is bullied by his older brother Jud, with whom he shares a bed, and ignored by his mother, who leaves him alone to go out every night (his father left them when Billy was six years old). At school he has become a loner and is picked on by both the teachers and his fellow pupils, until English teacher Mr Farthing gets him to open up and talk about how he raised and trained a kestrel chick called Kes. Billy's home life, however, proves to be a great threat to his interest.
Kevin Shaw, in conjunction with designer Richard Foxton, has put together a slick, imaginative production with some impressively smooth transitions between locations, as the inside of Billy's house becomes the street outside and then is suddenly the inside of the corner shop. The school scenes, with the help of a chorus of genuine schoolchildren, are cringingly authentic, from the school assembly with the tuneless, muttered singing to the sports changing rooms and showers ruled over by sadistic PE teacher Mr Sugden. If anything, some of the scenes with the schoolkids are a little too slick to be completely natural, but this may be a little picky on a first night performance.
Leading the cast as Billy is Adam Barlow, who is totally convincing as a teenage schoolboy—just as he was in the last Coliseum production of The Road to Nab End—and carries the whole production very well. There is a lovely, tender performance by Paul Barnhill as sympathetic teacher Mr Farthing and a very convincing portrayal of a nasty headmaster by Ged McKenna and a sadistic PE teacher by Simeon Truby. Jake Norton is pretty obnoxious as Billy's brother Jud and Meriel Scholfield is perfect as their mother.
The production is impressive, pacy and engaging all the way through with quite a few laughs, but all of this visual trickery doesn't really engage the audience emotionally, so when the inevitable tragic event occurs towards the end we feel like passive observers rather than really empathising with Billy.
However this doesn't really stop this from being a very accomplished, well-produced and enjoyable night at the theatre.
To 28 September 2010
Reviewer: David Chadderton