Khayelitsha - My Home

Mother Africa
Peacock Theatre
–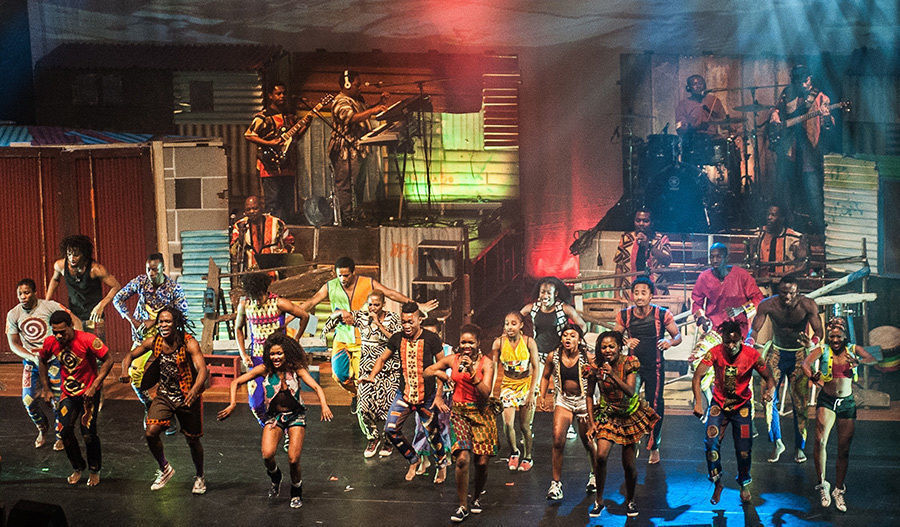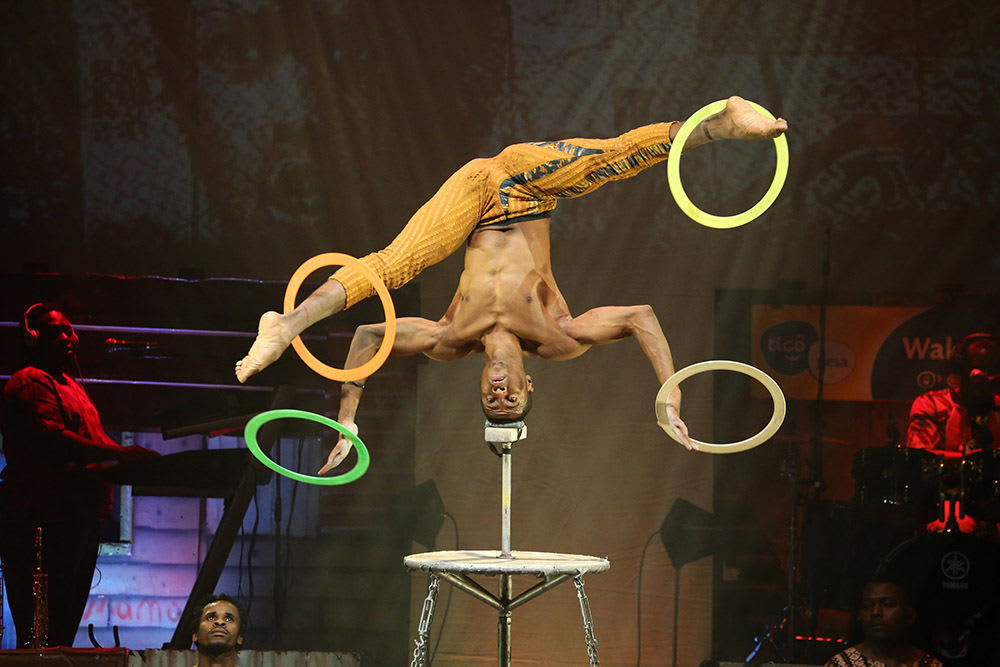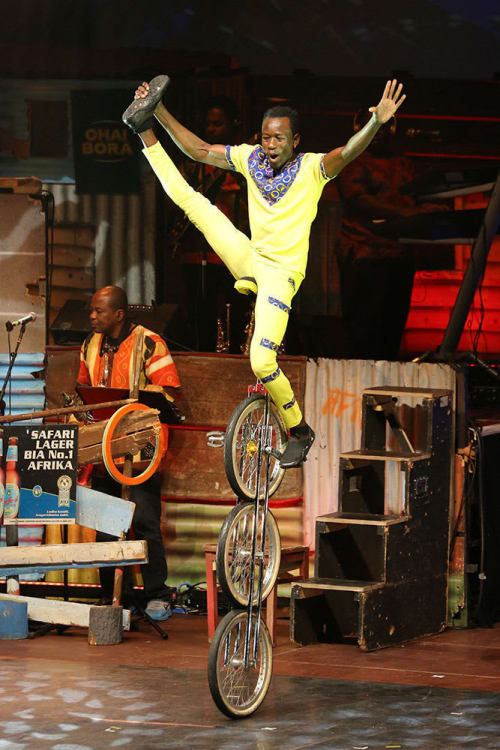 This is a show that blends traditional circus acts with street dance and lively music that has an African beat. This isn't the sawdust world of ringmaster, spangled leotards, feathered frills and glittery glamour. It's set instead in the busy marketplace of a South African township close to Cape Town, though these performers come from Guinee, Ethiopia, Ghana, Zimbabwe and Tanzania as well as from South Africa.
Khayelitsha (a Xhosa word that means "new home") developed in the mid-'80s as a result of forced relocation under the apartheid era Group Area Act. A shanty town ranging from cardboard shacks to new brick builds, it now houses 400,000 people, nearly half of them under 20. Things aren't easy, power cuts common and opportunity rarely knocks, but life is colourful and vibrant. Here, among the street traders, with workmen digging up the roadway, a party seems to be in progress with bursts of lively dancing and people showing off skills that leave their watchers gaping.
It is driven by music, lively African rhythms on keyboard, percussion and blaring brass with added colour from the kora, a long-necked cross between harp and lute associated mainly with West Africa. Some booty shaking, a few seconds of balletic pirouetting though mainly lively street dance but when they dance together, though they keep time and follow choreography, it's idiosyncratic and full of personality. It's a party, they are having a good time, and that atmosphere is infectious.
Though there may be competition between the vendors selling shirts or food or coffee, there is that same friendly interaction between market place spectator and circus act and performers sometimes seem as surprised at what they achieve as their audience.
With the atmosphere established, a tailor measuring women for dresses and ironing in the background, others at work or going to it, young girls playing, a small boy on a bicycle, a dance develops with everyone clacking bricks together. This isn't a show where you just watch skill; it draws you into the excitement.
When the girls start swirling hoops, the party really gets going. Firehiwot Bayelgn Tefera has them spinning around her body then on arms and legs as well: five in motion; then, when she stops, she's loaded with more and suddenly is simultaneously spinning a dozen.
Baraka Juma Ferouz now rides in on a unicycle and follows that display of skill by mounting one that is three connected wheels high, but that isn't enough for this township. These people produce one where the seat has a crooked pole mount; it's an unbalanced zigzag. He not only masters riding that but when they toss three dumbbells up to him he juggles them while still maintaining both movement and balance.
Baraka ends his set on a bike with a tiny wheel, a castor really, its seat just of the ground, a feat that I suspect may be even more difficult to perfect, careering around the stage on it.
Next, Mohamed Tadei Mohamed begins his balance act. He starts first with hand stands on raised apparatus, his long legs graceful, his body beautiful, then changes to a single pole and makes not just a head stand balance but maintains equilibrium as he catches rings thrown up to him and soon has them spinning on all four limbs.
Back to the double support and a handstand and those bricks heard clacking earlier come in handy. He catches them alternately and with each pair adds height until, when all are used up, he sweeps them all away and maintains the handstand as he drops downward.
Abere Alemayehu Debebe now comes on with Firehiwot and buys straw hats from a street vendor. Soon they are wearing them not just on heads but hands and shoulders and elbows and flicking them around between their body parts and each other in rapid motion.
The first half culminates in street dance tumbling and peaks with wild head spins; one guy seems to go on for ever as the lights fade slowly in what must challenge the record.
After the interval, there are traffic cones and warning tape set out. A hard-hatted guy consulting plans seems in change of laying some piping. A little boy is skipping as a new scaffold is set up for Mohamed Tadei. He lays a piece of piping on his platform and a plank upon it, balancing as it rolls around beneath him and, when thrown a rope, he two starts skipping on this short plank.
The road workers now offer him pipes and planking and adding them alternately he build a precarious, wobbling tower beneath him (no he won't take a TV set) to amaze with an outstanding feat of balance.
A guitar and vocal piece and drummer Richard Leonard Mwanisawa (who gets the whole audience to supply beats in his rhythm) provide a musical diversion before Yared Teklu Sheferaw appears with an unsupported ladder. He climbs it, somehow maintaining balance, somersaults between its rungs, walks it from one leg to the other but then, like Baraka, he's challenged to do it with zigzag apparatus: a ladder in two parts in the space beside the other. At first he doesn't make it but then, hooray! He's mastered it. Perhaps it is deliberate to add excitement but the whole show has a sense of really trying and performer's as surprised and pleased by their achievement as the audience.
Abere and Firehiwot are back now with a ball bouncing act. First they are working with inverted angled boards in rapid patterns of ever more balls, then move away to a flat surface and work not from facing positions but one above the other, even bouncing behind them.
Next it is Evans Osah with a big washing bowl, which he begins to spin upon a finger. He's thrown more and soon has them spinning. Placing himself in the centre of a piece of apparatus which offers at least four spikes to spin, and with the help of some spindles that he sticks in his shoes and between his teeth, he ends up with bowls on feet and fingers, the spikes and on top of an open umbrella balanced on the stick held in his mouth while those on the apparatus also go on spinning.
The final feat has Tomas Teka Alemu and Tamrat Yemane Ayalew performing Icarian Games, the name presumably coming from Icarus, the boy who flew to close to the sun. Tamrat lies on his back on angled supporting bench, legs and arms in the air and Tomas somersaults to land on them so that Tamrat can use the power of his legs to launch him into aerial somersaults, turn him by pressure on his buttocks or spin him stretched out flat like a rotor blade. It's an amazing display of muscle power, coordination and control. It's a thrilling end before a dance finale.
Director Winston Ruddle conceived the show with producer Hubert Schober and with these performers they make what could be a conventional circus especially happy and life enhancing.
This may have its roots in the show's background. Mother Africa was founded in 2006 and draws its artistes from the Hakuna-Matata Circus School which Winston opened in Kinondoni, Tanzania in 2003: his dream to produce an African circus that would find an international audience—but it isn't just a school. School and Company are a collective, a home as well as a hope for the future, a place of harmony without regard to ethnic or religious difference. It is a big family, many of whose members have gone on to international careers.
Circus profits also go to support other ventures including the Zip Zap Circus School in Cape Town, which also works with HIV+ children in Khayelitsha, and Dam Ditty Doo, which works in the townships of Johannesburg.
Reviewer: Howard Loxton