Khovanshchina
Modest Musorgsky
Welsh National Opera
Wales Millennium Centre, Cardiff
–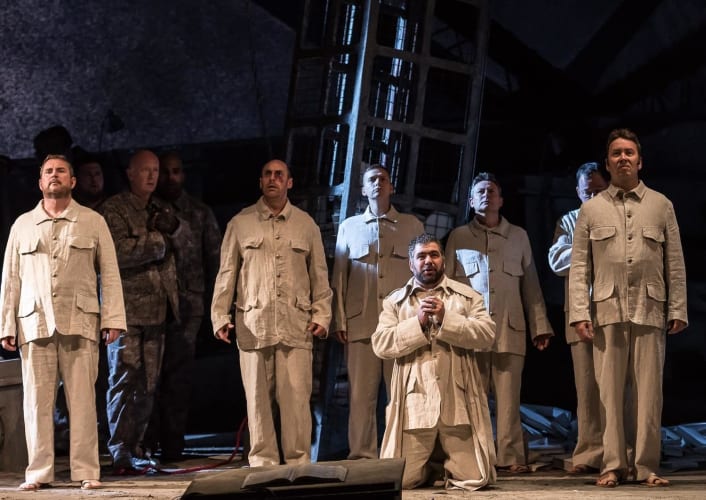 He was not one for half measures, the most inappropriately forenamed Modest Musorgsky, either in his brandy glass or in the scale of his operatic ambition. He failed to complete Khovanshchina after trying to pack in too much—both booze and background.
Yet for all its shortcomings, this is drama on an epic scale and with the superb WNO chorus on great form, it felt like all Russia was on stage in this terrific and imaginative revival, part of Wales's commemoration of the 1917 revolution.
Apart from the thrilling crowd scenes, the composer is at his best when writing for towering figures with voices large enough to populate the Steppes on their own.
Bass-baritone Robert Hayward was a splendid, paroxystic Prince Ivan Khovansky, by turns dominant and broken by convulsions that seemed symbolic of events around him. Musorgsky reserves his most achingly beautiful lines for the priest Dosifei, sung here with wonderful intensity by Miklós Sebestyén. His confrontation with Mark Le Brocq's Golitsyn had the excitement of a heavyweight contest.
Simon Bailey as Shaklovity and Adrian Thompson as the scribe powerfully set up the oppressive mood of the piece, and on press night choreographer Beate Vollack herself danced Ivan's protracted sado-erotic fantasy—possibly the sexiest scene Welshmen have ever witnessed in a polite audience.
Adrian Dwyer as Prince Andrei and Sara Fulgoni as Marfa sang sweetly, the latter perhaps a little under-powered on the night, but both roles suffer from the composer's lesser musical creativity applied to those outside the main historical narrative.
Director David Pountney helps to convey the sprawling story—in which virtually every faction is defeated by the coming but unseen forces of Peter the Great—by transferring the action to the period just after the Russian revolution, with the masses in concrete-dust grey, Khovansky's drunken guards in red, and Dosifei's Old Believers in white.
Designer Johan Engels has appropriately built a tottering set that could have come from a Constructivist art catalogue, with echoes of the Tatlin tower and a Malevich painting.
After a rather fast and forte overture, which suggested a bucolic picnic more than an expansive quiet before the storms to come, Tomáš Hanus conducted with sensitivity, poise and vigour.
Reviewer: Colin Davison