Killjoy
Douglas McFerran
The Mill at Sonning
The Mill at Sonning Theatre
–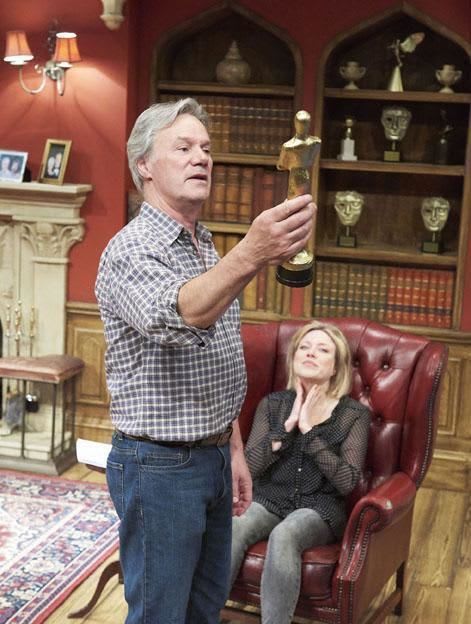 Douglas McFerran's comedy thriller Killjoy received its world première at the delightful Mill at Sonning last week.
The play is set in the substantial gothic mansion study of Max Bentley in the village of Chillington in south Oxfordshire, beautifully realised by designer Eileen Diss.
Bentley, superbly played by Michael Lumsden, is a supercilious, fading, Oscar-winning Hollywood actor who now stars in the television detective series Killjoy. However viewing figures have dropped and his contract for a further series is not going to be renewed.
To make matters worse, he has an enormous tax demand to pay but has no money to meet the bill so it's imperative that he secures another television series.
His cannabis smoking 'hippie' wife Hermione (Sarah Berger) is desperately trying to keep things together but is unaware of their desperate financial situation.
When the ambitious, seductive, young journalist Rosie Reed (Jessica Claire) arrives in the hopes of persuading Bentley to let her write his biography, Hermione suspects this is yet another of Bentley's floosies. Her acerbic attitude towards both of them is a joy to watch.
Zoe Lister plays the well-dressed and attractive television executive producer Joy Pendleton who is determined to sack Bentley in the most humiliating way and plans to bring in younger and sexier characters to rejuvenate the show.
Bentley becomes desperate as he sees his life crumbling away but Rosie has a plan to save the situation that spirals into a farcical series of murderous events.
The arrival of Detective Inspector Vivian (Simon Naylor) dressed as a Morris Dancer adds more confusion as the plot twists and turns and surprisingly keeps you guessing until the very end.
Directed by Douglas McFerran, Killjoy should not be taken too seriously. There are some truly funny one-liners in a delightfully entertaining play.
Reviewer: Robin Strapp