Kindertransport
Diane Samuels
Chickenshed
Chickenshed
–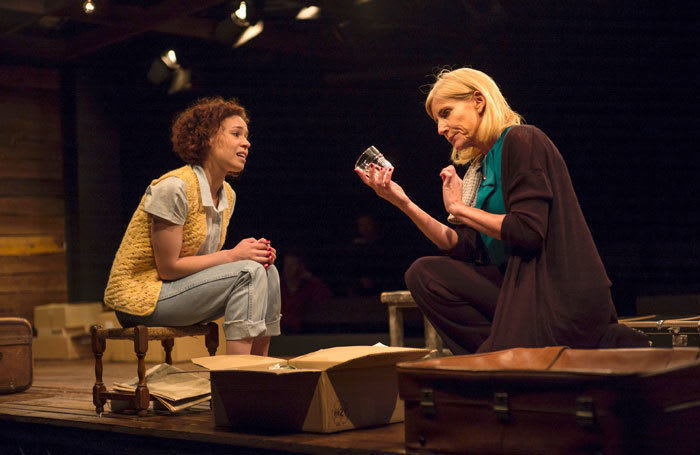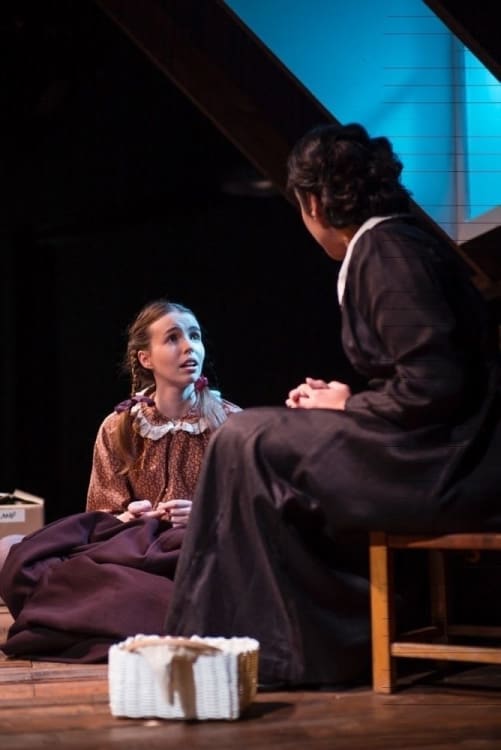 In November 1938, the Nazi regime in Germany stepped up its attacks on Jewish people. Many were killed, thousands were sent to concentration camps. Buildings were burnt including over a thousand synagogues. It was a climate of fear in which the Kindertransport evacuation of mainly Jewish children began in December.
Diane Samuels's play Kindertransport imagines what happened to one child, Eva Schlesinger, daughter of Helga (Gemilla Shamiruk) and part of the December evacuation to the UK. The play opens with Helga preparing Eva for the unaccompanied journey. It is an emotional moment and Helga tries to calm her daughter by reading from a book about the Ratcatcher (Pete Dowse), a disturbing character who took children away from their homes. He is a figure that continues to haunt her throughout her life.
The play switches between scenes showing Eva's early experience and events some forty years later when the older Eva (Michelle Collins) is collecting objects in her attic with her daughter Faith who is moving away from home. In the process, Faith finds a box of Eva's childhood possessions that prompt questions about her family history.
Chickenshed performs the play in the studio loft 'style' space in which William Fricker has designed an impressive traverse wooden set that easily serves as long attic, train, railway station and Helga's German home.
Hope Marks gives a very strong, often moving performance as the young Eva, reluctantly leaving her parents in Germany and later bonding with her liberal and sensitive foster mother Lill. (Evie Edgell) Conscious of the danger facing Eva's parents, Lill scours the papers for the few jobs that might allow them a work permit to come to Britain.
Since they would not be prevented from working as house servants, the ten-year-old Eva skips school to try to persuade some rich house owner to employ them.
By the time Helga is able to see her daughter again, Eva is eighteen and has come to regard herself as English, changing her name to Evelyn and being reluctant to go to America with her mother.
The traumatic history Evelyn tries to bury is something her own daughter Faith later insists is important to remember. The character of the assertive Faith is given a very fine performance by Mirrim Tyers-Vowles.
This is a visually distinct production in which Andrew Caddies's lighting design helps create a sense of movement and at times an unsettling sense of threat, something emphasised by Dave Carey and Phil Haines's sound design.
Chickenshed's powerful production of a thoughtful play comes at a time when aid agencies are again pressing the Government to allow unaccompanied refugee children to come to Britain.
In May this year, Lord Dubbs, who was part of the 1939 Kindertransport, forced a climbdown on a Government Bill which would have blocked many of these refugee children coming to Britain. He remains frustrated at the continued failure of government to allow this to happen.
As the French Government threatens to demolish the refugee camps in Calais, UNICEF has urged the UK government to take the hundreds of eligible, unaccompanied refugee children. An executive director told the BBC, "last time, part of the Jungle camp was demolished, hundreds of children went missing. We don't know what happened to them."
The play Kindertransport reminds us what should happen and quickly.
Reviewer: Keith Mckenna