Kindertransport
Diane Samuels
Richmond Theatre
–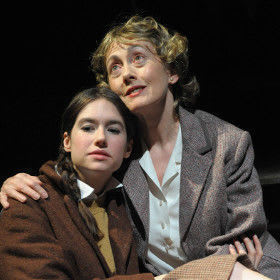 Diane Samuels's play Kindertransport premièred in 1993, and it's revived now by Andrew Hall in a touring production that's been mounted to mark the 75th anniversary of the first arrivals to the UK of "the Kinder": the 10,000 Jewish children and teens sent by their parents to these shores in order to escape the horrors of Hitler's Europe.
Once arrived, the Kinder were placed in homes and schools, in farms and special hostels, across the UK. The experiences they had were, inevitably, mixed, with some suffering indifference and even exploitation and others being welcomed into supportive and loving families. Many never returned to their homelands.
Samuels's play approaches these events through a distilled, intimate, female-focused story that nonetheless gestures towards a broader picture. In 1939, nine-year-old Eva Schlesinger boards a train at Hamburg station, waving goodbye to her mother Helga and heading to England as one of the Kinder. There she's taken into the Manchester home of Lil Miller, where she receives a supportive, though not entirely friction-free, welcome. Adjusting slowing to her new culture, Eva starts to thrive, all the while harbouring hopes of having her parents join her in the UK.
However, when these hopes appear to be dashed, Eva's response is to cut herself from her past, reinventing herself as "Evelyn" and becoming naturalized as British. Her background is only revealed years later when Evelyn's daughter Faith—about to leave home herself—discovers evidence of her mother's history and is disturbed about the past that her mother and Lil have kept secret from her for so long.
Examining the cost of survival for three generations of women, Samuels's play uses the specifics of the Kindertransport story to construct a more universal exploration of the psychological effects of separation and parental loss. At times, the piece suggests a distaff variant on an early Arthur Miller play, especially in the confrontation scenes between Faith and Evelyn, with the former turning accuser as the latter's secrets come to light.
There are some underdeveloped and contrived aspects to the writing but at its best the play is insightful in its examination of the confusion and trauma experienced by a young refugee such as Eva; it's also bold in its refusal to tie things up too neatly. The play also introduces an expressionist element through the story of the Ratcatcher, told to Eva by her mother, and visualised at various points as a figure who haunts the character as an embodiment of separation.
Well designed by Juliet Shillingford, Hall's production doesn't build up the emotional heft it might but it negotiates the play's swift time-period transitions with elegance and economy. It also benefits from some excellent performances.
Janet Dibley could do more to suggest the traumas lurking beneath Evelyn's brisk and brittle façade, but Gabrielle Dempsey beautifully conveys the young Eva's confusion and sense of loss and her first steps towards reinvention in her new environment.
Paula Wilcox is by turns warm and wary as she mediates between adopted daughter and granddaughter. Paul Lancaster multi-tasks effectively as all the various incarnations of "the Ratcatcher." And Emma Deegan is touching as Helga, the mother who, having sent her daughter away for the girl's own benefit, ends up losing her for good.
Reviewer: Alex Ramon