Kinderstransport
Diane Samuels
Hall and Childs Ltd in association with Paul Tyrer and Jamie Clark for the Booking Office Ltd and the Belgrade Theatre, Coventry
Yvonne Arnaud Theatre, Guildford
–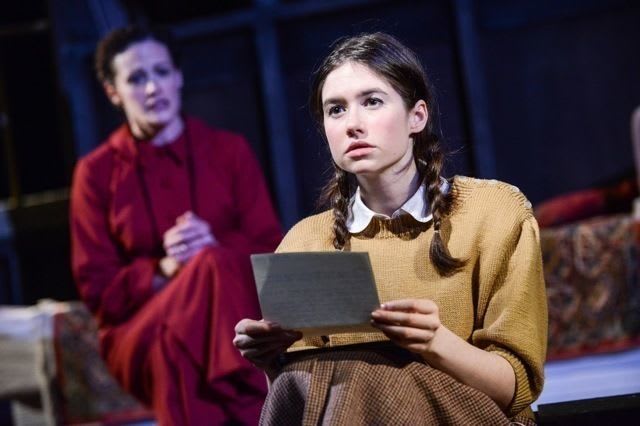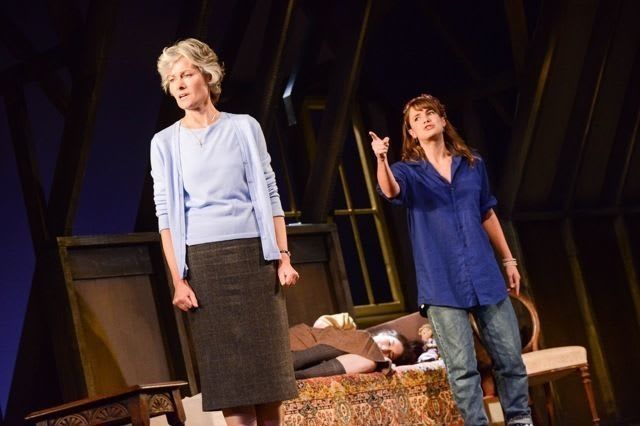 The story begins in Nazi Germany at the beginning of the second World War, and a Jewish mother is bravely preparing her nine-year-old daughter for a voyage into the unknown. She will travel on the Kindertransport to live in England and she must learn to look after herself.
The first step is to sew a button on her coat by herself. She is only allowed to take clothes with her, but a few jewels are smuggled about her person for security. Focus then shifts to another mother, a generation later, sending her teenage daughter off to an independent life and anxious she must have all the necessities, which in this case seems to include a television.
The author tells us that the story is not about the Holocaust, but about mothers and daughters and the pain of separation, yet the war plays a very large part in both tales.
Gabrielle Dempsey plays the young Eva in a manner which gives credit to her training as well as her talent. Being a recent graduate, she hasn't had a chance yet for much experience, but she is totally credible, not only as the nine-year-old bewildered child but also in each stage of her development as she grows up, and she elicits the sympathy and understanding of the audience at each stage.
Eva promised her mother she would be good and she tries hard to appreciate everything although new and strange. Waiting anxiously for her parents to join her is the hardest test, but the years pass and things change.
Mother number two is almost as worried and anxious as her German counterpart, yet her daughter Faith (Rosie Holden) doesn't have to leave home, and doesn't even want to go. Faith is much more volatile and outspoken than compliant Eva and furious rows develop when she discovers letters from the past, things her mother hasn't told her.
Maggie Steed as down-to-earth Lil is the voice of rationalisation and understanding, motherly and comforting to the little refugee she takes in and later reasoning with her daughter and granddaughter.
The fairy story of the Pied Piper has obvious connections with the situation, children being taken from their parents, and Paul Lancaster has his work cut out being not only the Ratcatcher but numerous and diverse characters throughout, including German guard, official greeting the young refugees, postman, stationmaster etc.
The whole is played out in Juliet Shillingford's excellent attic set, first where the German family is living and later as the storage space where unused articles—and memories—are kept. Directed with clockwork precision by Matthew Hall, not an easy task as the different eras constantly overlap each other.
Beautifully performed and staged, totally absorbing and involving, and a play to make you think, not only about the complexity of the mother-daughter relationship but about the plight of refugees and immigrants. Highly recommended.
Reviewer: Sheila Connor