King Arthur
Al Dunn, Matt Freeman, Nick Bunt and John NIcholson
Le Navet Bete
Northcott Theatre, Exeter
–

Listing details and ticket info...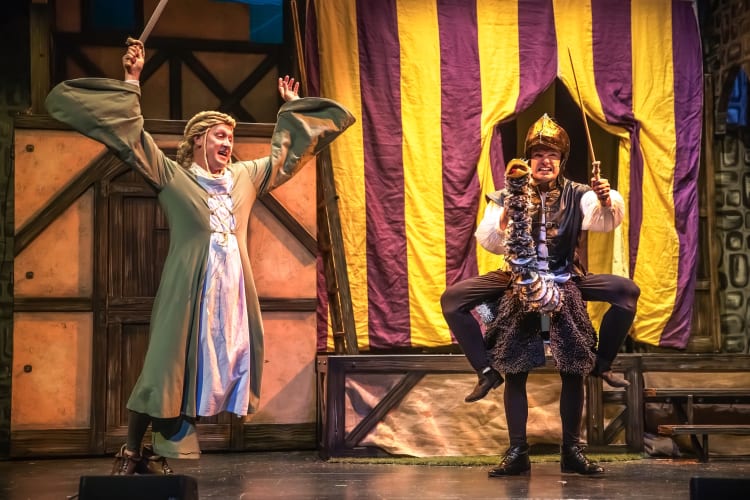 Oh I do so like a bit of Le Navet Bete, it never disappoints (overlooking 400 as an anomaly). And King Arthur is frantic fun, chaotic comedy and very, very slick.
Al Dunn, Matt Freeman and Nick Bunt's iconic quick-fire change and multi-role-ing populates Camelot with squires and knights, a dysfunctional royal family, magical mavericks and so much more.
Influenced by a pint or 10 of the Davester's lethal brew, the hapless squires Edgar, Osbert and Dave are charged—on pain of death—with taking the eponymous king's street cred from zero to hero at the upcoming Arthurfest.
A crash course in acting—from facing the right way through acrobatics to dramatisation and embellishment—and the three unwilling saviours of Camelot just need the stuff of legends to save their heads.
Cue the back-stories of the motley collection of Knights of the Round Table with Lancelot on a mission to save tastebuds rather than the Lady of Shallot languishing in boiling baked beans; Percival, forsooked by a woman and eating chivalry for breakfast, riding a ostrich to battle with the fearful Black Knight; yobbish but chaste Gawain thwarting the Green Knight, while the B-boys outwit the Riddler and the bullish Schrödinger's box.
And all the while, the fearfully seductive Guinevere pouts and postures, and wicked Morgana le Fay plots to escape her caravan to plonk the unsavoury teen Mordred (and his broken thrust cup) on the throne.
Add a Y-front-boiling, enigmatic Merlin; a completely bonkers Vivien, Lady of the Lake (whose inability to descend stairs is a highlight); 'Eggscaliber', myriad peasants, soldiers and randy wives for a couple of hours of tremendous fun, daftness and brilliant timing.
Jonny Wharton adds a medieval twist to Cher, the Backstreet Boys and milkshakes, and stage manager Fi Russell's deceptively simple-seeming set is bold and multi-role-ing itself.
Pacy, very funny and heading off on a UK tour from February. Hopefully at a place near me.
Reviewer: Karen Bussell