King John
William Shakespeare
Shakespeare's Globe and Royal & Derngate Northampton
Shakespeare's Globe
–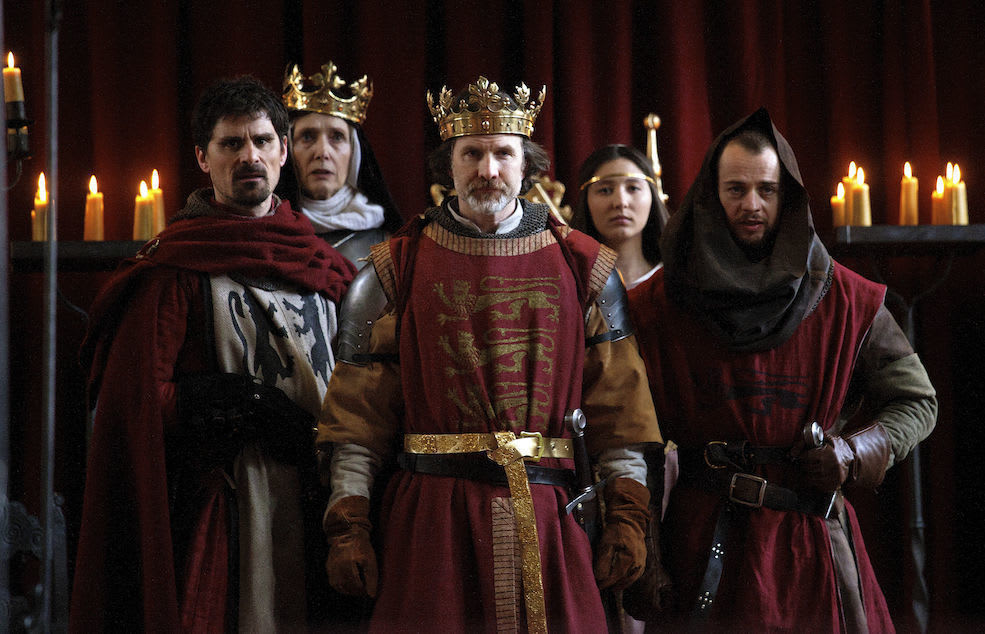 James Dacre's production of this least known of Shakespeare's histories was first seen in the Holy Sepulchre Church in Northampton and is playing other atmospheric ecclesiastical spaces where its hooded monks, multiple candles and Orlando Gough's music well match their liturgical environment.
In the natural lighting of the Globe, the candles have little luminary effect but add an extra air of ritual while the music, drums, processions, rich costuming and stylized battles of the production seem totally in key with late Elizabethan taste and also suggest why this seldom-performed play was so much more popular in the late eighteenth and the nineteenth century when spectacle was such an important part of theatre.
Dacre adds an opening scene taken from an earlier anonymous play The Troublesome Reign of John King of England (which could have provided Shakespeare with much of his material) that sets up the point in history for a modern audience and adds a coronation scene. This firmly establishes the play's main theme of contention for the crown (neither Shakespeare's nor the earlier play make any reference to Magna Carta).
Eleanor of Aquitaine, John's mother, (probably best known to theatregoers as the queen in The Lion in Winter) puts him in power. Barbara Marten makes her a force to contend with, while Tanya Moodie as Constance, widow of John's elder brother Geoffrey, strongly opposes her in claiming the crown for her son Arthur. Constance was one of Sarah Siddon's roles, its plum dramatic speeches as she appeals her case are a histrionic gift to any actress.
King John is a villain without any tragic stature, like a trial run for writing Richard III. Jo Stone-Fewings gives him a sardonic edge, a twisted complaisant humour that isn't funny. The man the audience warms to is the Bastard son of Richard the Lionheart. He's the king's man, he swore so, but he becomes disillusioned and significantly it is he who ends the play with a proud patriotic call for unity.
While John, his rebellious barons, the French court and the Church—everyone else except Laurence Belcher's innocent Prince Arthur is driven by self-interest, this is a man who seems to expect better. Alex Waldemann gives him honesty and an easy rapport with the audience.
The monkish musicians take up stage space and push the action forward and designer Jonathan Fensom extends the action forward beyond the Globe's platform, a red carpet running from the glittering golden coronation chair down into the yard, lined with candles.
Sword thrusting soldiers rush down it or charge across the stage, kings and cardinal process (a balance kept between religious observance and protestant contempt for Rome) and then, the death of Arthur is given a minimal staging: a tumbled chair a sprawling fall, beautifully timed by Belcher, an instance of how this production concentrates attention in contrast to its rich and busy action.
It focuses on human feelings that give more heart to the story than the dynastic squabbling of the plot.
Reviewer: Howard Loxton