King John
William Shakespeare
Royal Shakespeare Company
Swan Theatre, Stratford-upon-Avon
–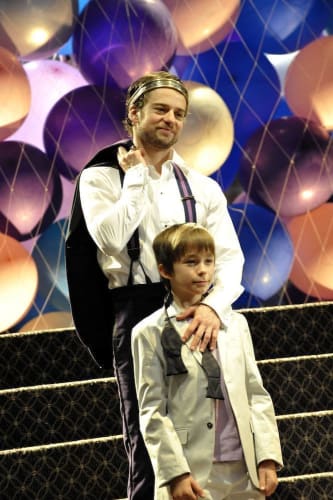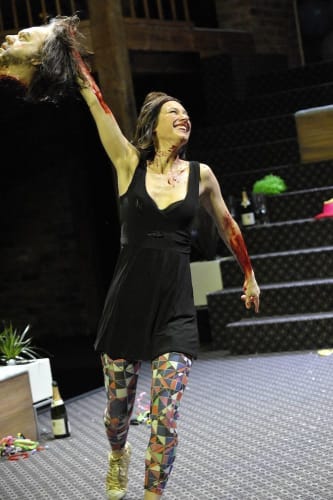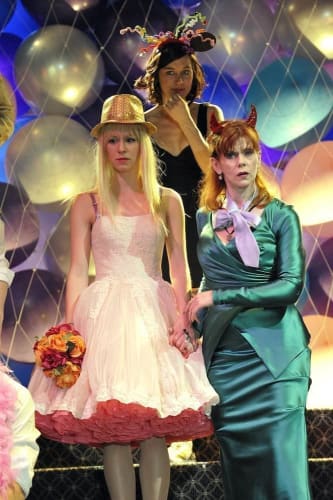 After the powerful reimagining of the Swan Theatre's Richard III, the next RSC offering, King John, was awaited with eager anticipation. A rarely played political drama, King John is enjoying a theatrical renaissance of late. How would director Maria Aberg present this difficult, ironic play? A hint comes from the set design of Naomi Dawson.
The Swan is transformed into what best might be described as the breakfast parlour of a run-down Blackpool holiday guest house. The stage is carpeted throughout with a chocolate brown and eye-wateringly patterned nylon carpet that smothers ten broad and steeply-stepped platforms to the rear. The backdrop, a net of giant red, purple, blue, green and white metallized balloons, which occasionally and unexpectedly burst at the strain of proceedings.
Into this claustrophobic middling world steps the Bastard. We do not know, as yet, that Pippa Nixon plays the regendered and emasculated Bastard of King John. We are aware that this actor is forced painfully to strum a ukulele while cajoling a bemused audience into humming along with 'Land of Hope and Glory'. Is there no better way of engaging the Swan in the 'party spirit' this play so desperately demands?
What follows is an odd interpretation of a play whose relative obscurity guarantees absolute confusion for the hard-pressed onlookers. The Bastard vies with her brother before being embraced by the royal family. King John's behaviour towards this half-kinsperson is, understandably, nuanced with heterosexual lust. The family embark on their invasion of France and are greeted by a General De Gaulle lookalike and several minor characters from the film Dirty Dancing. Don't worry. This film reference is fully enacted in a party scene that includes the stomping Dirty Dancing theme and choreography, not least the flying leap.
Alex Waldmann's King John is forced to reside in a South London suburban world of twitching net curtains and Sunday car cleaning. Siobhan Redmond's Queen Elinor loses all her military might and emerges more Hyacinth Bucket than Plantagenet power force. Susie Trayling's Constance fights valiantly to inject emotion into her hair tearing distress, but by now there is so much confusion that nothing can salvage her grief.
The second half of the play makes better headway of King John's steady decline. His solitary dance, a poisoned character desperate to keep hold of power, offers a powerful image. In this half, Waldmann is able to show his true spirit as an actor. Less successful is the regendering of the manipulating papal legate Pandulph. Although played by the great Paola Dionisotti, this Pandulph remains an odd character, seemingly more at home in an Anglican cleric's nightmare than a production of King John.
Shakespeare purists will hate this reinterpretation. Others will recognize its radical approach as innovative and forward looking. The play has been rewritten, characters lost and conflated, and parts regendered in often unconvincing ways. Many members of the audience obviously loved its revolutionary spirit. I remained in the depressing confines of the Blackpool guesthouse, reminded of winter tour dates and desperate fun-seeking partygoers. More Billericay than Faliraki, this King John fell flat for me.
Reviewer: Kevin Quarmby