King Lear
William Shakespeare
Darker Purpose Theatre
Cockpit Theatre
–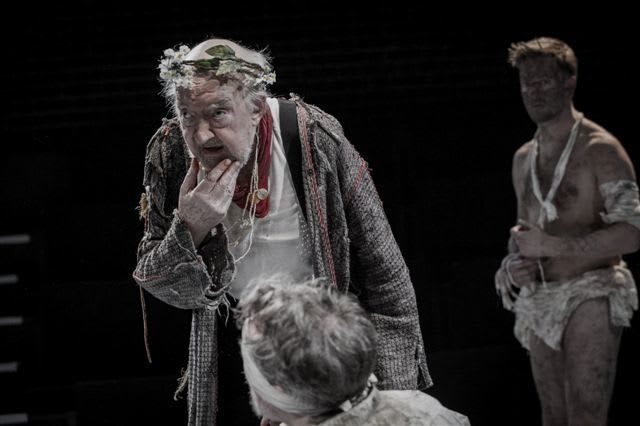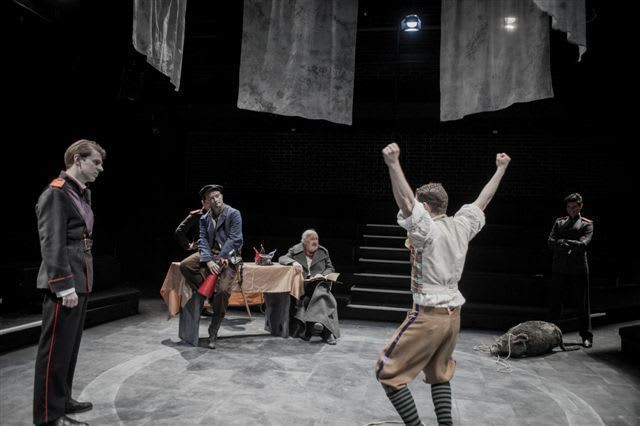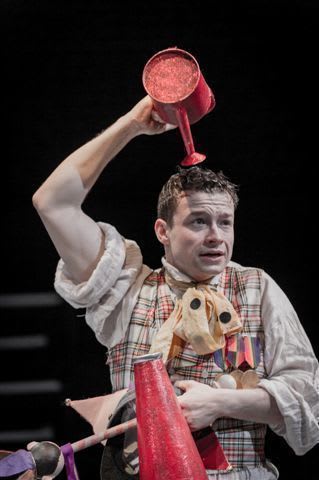 Director Lewis Reynolds here offers a straightforward presentation of Shakespeare's great tragedy of disloyalty, ingratitude and madness.
He makes no attempt to impose a directorial concept. He and his designer Alexander McPherson set it at the end of the nineteenth century. The men are in uniform, the women in bustles and this company of royals and aristocrats wear their medals and the sashes of their various orders.
The in-the-round staging is played on a paved floor with a table and throne-like chair that look like the same slate slate, the only furniture, the concentrated space emphasised by smudged grey banners overhead that add focus to the fast-moving action.
However, though scenes move on swiftly it does last three hours plus interval and opens with a self-indulgence, misguided and unfunny introduction in which the Fool cracks bad jokes and encourages the audience to switch on their mobiles and chat and text and Twitter throughout the show. Presumably it is intended to help establish Ryan Wichert's Fool as comic but it doesn't help the actor and this court jester never succeeds in being funny—nor is there any sign elsewhere of the humour which has been revealed by some recent productions of the play.
The production seems, quite rightly, to be planned to frame an authoritative performance from veteran actor David Ryall, himself nearing Lear's four score years. This is not a Lear who domineers through rages but is rather an irascible old man used to his own way but with signs of an indulgent streak towards the daughters he doted on when they were little.
Ryall has been seriously ill and began rehearsal while still completing a course of chemotherapy and that ordeal has left him with occasional memory lapses, so he is playing Lear book-in-hand as reassurance. This is at times a hesitant performance, not perhaps what actor and director planned when they decided to stage their collaboration, but Ryall is a craftsman and makes the occasional lapse and reference to his text part of his playing.
This Lear is a bit pernickety: courtiers or daughters obviously had to get things right or suffer his displeasure. Now he is losing his grasp on things and, once he hands his kingdom over to them, daughters don't obey him.
Lear first enters pushed in a wheelchair but, though it turns up conveniently later, allowing him to bring in Cordelia without having to carry her, he soon does without it. However, it helps establish this as a man who feels himself failing and needing to relinquish the responsibilities and strains of kingship.
An extra poignancy is added to Lear's scenes with Cordelia, the daughter whom he rejects because she says her first love must be towards her husband, because she is gently played by Charlie Ryall (real -life father and daughter). Her "wicked" sisters are not played as monsters but like Victorian princesses who take privilege for granted and marriage a public rather than a private contract. Wendy Morgan's Goneril can take a lover without having to worry about paparazzi or, it seems, her husband Albany (Alex Vendittelli) but power releases a vicious streak in Nikki Leigh Scott's Regan.
Mike Luke Walsh is a boldly self-confident Edmund, the Earl of Gloucester's bastard, conducting affairs with both princesses as well as tricking his father into disinheriting his legitimate brother Edgar. A blonde contrast to dark Edmund, Dominic Kelly is the upright Edgar but doesn't get any help from the production in explaining his extreme behaviour disguised as wildman Tom, especially after being made to cover himself with blood from an onstage carcass.
Stephen Christos makes their father Gloucester a fussy, Polonius-like courtier, well meaning but easily fooled. He cannot believe what is happening when Regan's husband Cornwall (Ian Hallard) gets his hands on him—and is blood-splatteringly blinded. It is just as well that reserved signs stopped people sitting in one part of the front row!.
Reviewer: Howard Loxton