King Lear
William Shakespeare
Guildford Shakespeare Company
Holy Trinity Church, Guildford
–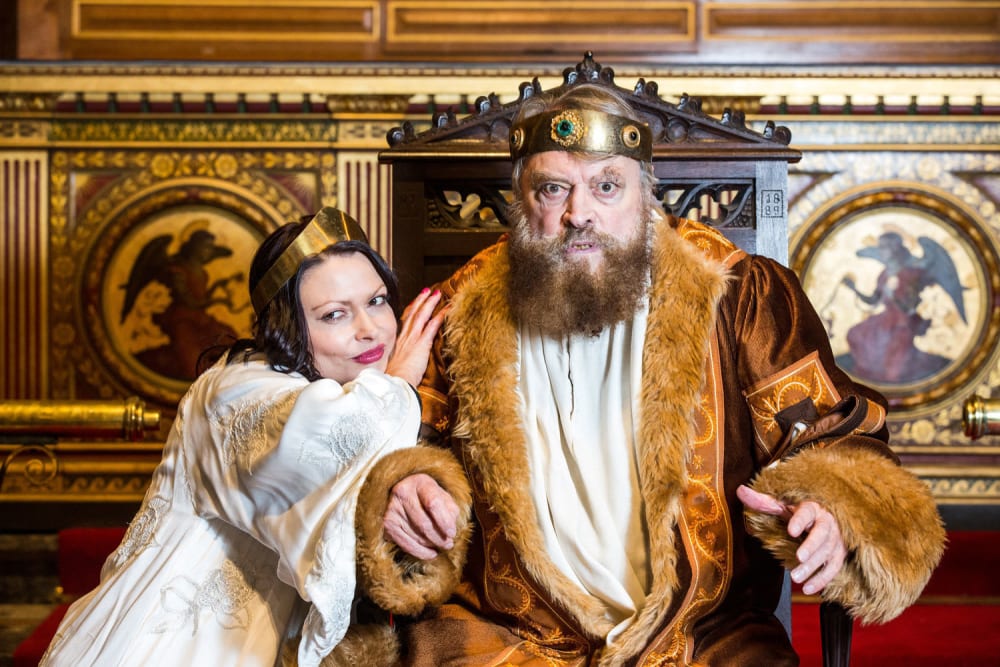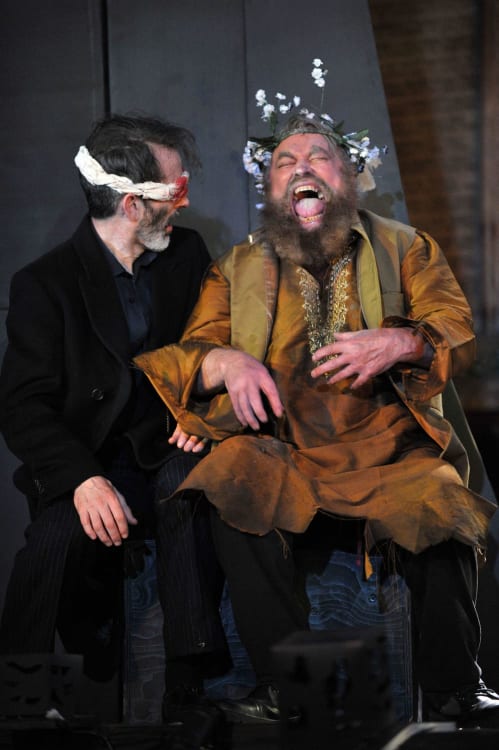 There's no denying that Brian Blessed is loud—very loud—and the fact that the previous night he had collapsed on stage (recovering 20 minutes later to continue with the show) didn't restrict his performance one bit.
He rages, he roars, a king at the very zenith of his power and only one step removed from whatever god he professes to worship, yet in his few quieter moments he is more effective and more potent in meaning.
His later realisation of the suffering and deprivation suffered by his subjects "poor naked wretches" (addressed to the audience) is very moving, and would be even more so if a little more of the speech could be delivered in this vein. Yet with "I am a man more sinned against than sinning" he almost succeeds in drowning out the very realistic thunderstorm.
A father dividing his inheritance could well be influenced by how much his family loves him, and Blessed gives us a Lear so full of his own importance that he cannot see how false are the declarations of love professed by daughters Goneril and Regan, and is so furious, and indignant, that his favourite Cordelia, speaking truthfully, does not outdo them that he banishes her from his kingdom.
Big mistake here as the two inheritors soon show their true colours and they are not pretty. Cordelia doesn't fare too badly as the King of France is happy to marry her without a dowry, but this is a tragedy and there is no 'happy ever after' ending.
Rosalind Blessed (Blessed's own daughter) is Goneril, a fine actress whose sly looks show the insincerity of her professed love. Later, in scarlet underwear, she gets involved in sexual shenanigans with the the Duke of Gloucester's bastard son Edmund, who is also dallying with her sister, Regan, played vibrantly against type by Sarah Gobran as a cruel and vindictive bitch, and not averse to torture.
The magnificent Holy Trinity Church has proved a superb setting for the plays GSC has presented here with some very inventive staging. This time it's more like traditional theatre with the stage at the altar end and a sloping walkway stretching out into the aisle, but the pulpit is also in use once again as part of the Earl of Gloucester's castle and it is here that he receives the letter purporting to be from his son and planning his death.
The letter is delivered by Ben Ashton who, as the illegitimate son Edmond, shows righteous resentment of the fate of bastards, a sentiment which gives him (in his eyes) a reason to seek revenge on his father.
Emily Tucker is a sweet and reasonable Cordelia and also, strangely costumed in black sequinned hot pants and bowler, takes the part of the Fool. Matt Pinches is as focused and as versatile as ever from the rather weedy Duke of Burgundy, who only wants Cordelia if she comes with money, to Edgar the privileged son of Gloucester, later disguised as the crazy beggar 'Poor Tom'.
Caroline Devlin's production is rather long at almost three hours, and maybe my attention was drifting, but I seemed to miss much of the Fool's speech, especially the pieces predicting the future.
There is little to laugh at in this play, but a surprisingly lighter moment when Lear is re-united with the blinded Gloucester (excellent portrayal by James Sobol Kelly) and they are almost happy.
Reviewer: Sheila Connor